Complete Powerpoint slide presentation for forklift instructors. Ready made training course
choose your forklift truck wisely now and save money later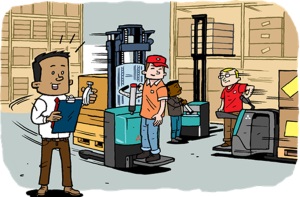 Here is and interesting article by Mitsubishi Forklifts on the subject of buying a forklift truck. It would be advisable to read this in conjunction with an article I wrote on buying the correct truck for the job.
---
Whether you're looking for second-hand or new equipment, be sure to take the time to find a truck that suits your operations, as well as your budget. Not only could you cut costs in the long term, but you will also be far more likely to find a truck that meets your exact needs and boosts your productivity.
Get a truck that is fit for purpose
It is never a good idea to settle for equipment that is almost right, but not quite. An over-specified machine might sound good but it could be less manoeuvrable or consume more energy. Or you may have the choice of a low-capacity machine that just about meets your current demands but which isn't future-proof against different load types or changes in layout.
Assess your operations and your current machines to see what it is that you truly need. For example, depending on your usage, stackers are an excellent choice for pallet lifting in tight spaces.
If it's a forklift you require, look at all your options. You may be used to I C engine trucks for instance, but if you favour these you might miss out on the extensive benefits offered by the latest models of electric trucks.
Choosing the right configuration can also protect your bottom line. Look for appropriate attachments such as load weight indicators, speed limiters and lights, as features like these will improve the safety of your operations and help to avoid expensive collisions, spillages, production delays, and damage to racking or equipment.
Invest in your operators: improve productivity
Remember that the purchase price of the truck itself is just a remarkably small part of the cost of operating it over its lifetime. The real cost is invested in the operator. It has been estimated that over a five-year term the operator accounts for 70 percent of the costs, so it pays to give them the right equipment to do their job as effectively as possible.
Several tests in the Netherlands showed that the most significant factor in productivity is predictability: the truck performing exactly as the operator expects.
It's also important to consider operator comfort. Giving your operators an ill-equipped truck could potentially cause RSIs and injuries that lead to absenteeism and downtime — all of which can cost your business, as well as the health of your operators.
Mitsubishi forklift trucks are fitted with ergonomic features for greater operator comfort even through long shifts. Take the VELiA EM order picker. It has an ultra-low step that is 45 percent lower than some competitors and an extra wide entry. This helps to reduce the strain on operators, and reduces the risk of trips.
Even when you do have the right equipment, your operators need to be fully trained and competent in using the truck. By investing in your operator's skills, you reduce the risk of costly accidents.
Save on energy costs
Technology moves on extremely quickly, so older machines are likely to be less efficient, use more fuel, produce polluting emissions, and will, inevitably, require more repairs.
Buying a new electric model means gaining a truck that will produce low (or no) emissions. Most counterbalance and warehouse equipment ranges from Mitsubishi Forklift Trucks have the option of using li-ion batteries, which offer opportune charging and are up to 40 percent more efficient than lead acid.
An electric model will also be cheaper to run. For example, a 2.5 tonne electric counterbalance working typical shifts of 6.5 hours a day over a five-year period will deliver average savings of 23 percent over an LP Gas or diesel equivalent.
Even the warehouse equipment is making strides, with the VELiA ES proving to be 14 percent more energy efficient than its closest competitor.
Don't settle for second best
Selecting the wrong truck could cost you (and your operators) greatly over time. But by putting in a little more effort now, and spending time assessing your options, you can find the ideal truck capable of achieving way more — and costing way less — than you ever would have thought.
Disclaimer. The legislative information contained on this web site is my interpretation of the law based on many years in the health and safety business. A definitive interpretation can only be given by the courts. I will therefore not be held responsible for any accident/incident/prosecution arising as a consequence of anyone using any information obtained from this web site.