FLTA safety drive - week two. Put the spotlight on safety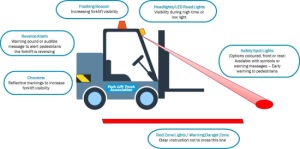 Safety is a vital part of any operation and FLTA are committed to sharing the latest innovations and good practice advice through their latest campaign – FLTA Safety Drive 2020. This week they are putting the spotlight on forklift safety.
There are a number of innovations to increase the safety of forklifts, whether stationary or in motion. Even in well-lit surroundings, the addition of safety features such as lights and sounds reduce the risk of operator and pedestrian collisions.
Safety Spotlights
Bright spot beam projects a 'ball of light' onto the floor, indicating an approaching vehicle
Enhances pedestrian awareness of the presence of moving hazards and increases safety in your operation
Projects a bright spot beam onto the ground, either in front or to the rear of an approaching vehicle providing an advanced visual warning to pedestrians working nearby
Especially useful where blind corners or warehouse racking is present
Effective alternative to audible warning systems in workplaces with high ambient noise levels and where pedestrian workers may be wearing ear defenders.
Different visual warning styles and colours are available including spots, arrows and symbols
Red Zone Lights
Small spot lamp projects a bright red line on the floor indicating a clear danger zone highlighting the presence of a nearby vehicle or machine
A visual warning indicating a clear no-go-zone for pedestrians moving in the vicinity of materials handling equipment
Flashing Beacon
A flashing beacon will further increase visibility of an approaching forklift truck to nearby operators and pedestrians
Headlights
Using LED bulbs for headlights and road lights will ensure the vehicle is visible in low-light and night-time operations
LED bulbs have low power consumption improving reliability and reducing costs
Chevrons
The use of reflective vinyls improves visibility of equipment for pedestrians and drivers, especially in low light settings, reducing the risk of collisions
Easily applied to existing equipment or racking and available as magnetic or self-adhesive decals depending on the surface material highlighting potential hazards to pedestrians and operators
Audible Warnings
Gives an audible signal to approaching workers to be aware that the forklift is being operated in the same location as they are
A business can protect itself and its employees from an unfortunate incident by installing a reverse alarm on forklifts
Can be used in addition to the use of the horn during reversing manoeuvres, alerting people in the vicinity to the potential hazard.
Acts as an early warning when the vehicle is not in the line of sight and also enables those who are visually impaired to be aware of the hazard
For more information on the FLTA safety drive visit their website