FLTA safety drive - week three. Elevate your driver safety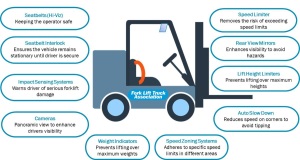 This week the FLTA are looking at how to improve equipment to better protect forklift drivers.
Whilst training and appropriate qualifications are the first step in driver safety there are a number of products available for forklift trucks to further increase safety.
Seatbelts
If your forklift has a restraint such as a seat belt or a lap bar it must be used as failure to do so can result in the operator being thrown outside the protective cage in the event of an overturn

Should injuries be sustained to a driver when a seatbelt hasn't been worn there could be negative impact on your company insurance or the driver's right to compensation depending on company policy

Fitting a hi-viz seatbelt ensures driver compliancy as it is clear whether it is being worn

An interlocking seatbelt system paralyses the vehicle until the belt is fastened preventing the driver from putting themselves at risk
Impact Sensors
Impact sensors record the reaction of the vehicle to shocks due to accidents. Analysing the data collected can be used as a tool to minimize further incidents.

Reacts to impact and sets off an acoustic and visual warning alerting the driver and others that damage may have been sustained

The truck automatically shuts down preventing further damage or injury and can only be restarted using a key or control unit
Weight Limiters
All Forklifts are supplied with a rating label showing the capacity at a given load centre and fork height and a weighing scale enables the operator to check the load weight before lifting

A weight limit indicator enables the operator to see at a glance if the load is within the safe working limits of the forklift truck to prevent overloading
Height Limiters
Height limiters prevent damage caused by raised fork-lift truck masts colliding with suspended elements, such as pipes, ventilation and AC ducts

The limiter cuts off the lifting mechanism at a designated height keeping overhead objects safe, preventing damage and injury
Speed Limiters
Improve site safety, preventing speeding by limiting the forklift travel speed without affecting the hydraulic lifting power

Improve driving standards and decrease damage

Save money with lower fuel expenditure and reduced maintenance and repair costs
Speed Zoning Systems
Speed Zoning systems offer cost effective speed limiting solutions for sites where there is a requirement for a reduced speed in high risk areas such as inside a building or around highly pedestrianised areas

Adaptable to site layout changes so no need to replace if zones change

Offers greater site safety and improved driver standards
Reverse Camera Systems
Scans the hazard area in the rear using stereo cameras, recognizing obstacles and differentiating between people and objects alerting the driver to hazards and preventing collisions

If a person is detected in the danger zone at the rear of the truck, the system sets off an optical and acoustic alarm giving the driver enough time to react and avoid an accident

More sophisticated versions offer automatic brake intervention, eliminating collision.
Auto Slowdown
An auto slowdown system automatically adjusts the truck speed when cornering, depending on load and steering angle: the heavier the load, the slower the truck's cornering speed

Significantly decreases the risk of overturning or slipping, while enhancing warehouse safety for your employees and trucks