Health and Safety Event 2021
The following information is from the event organisers.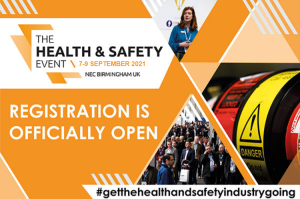 For months, we've been hoping that the Covid-19 situation would ease and we could run The Health & Safety Event safely and with as much energy and passion as in the previous year. We've taken the decision to reschedule The Health & Safety Event from April 2021 to 7-9 September 2021 along with the rest of the Safety & Security Series - The Security Event, The Fire Safety Event, The Facilities Event & The Emergency Services Show.
Whilst it is frustrating to delay bringing our collective industries together at the UK's largest event dedicated to protecting people, places & assets at The NEC, Birmingham. We have been working tirelessly in the background to create the best possible platform for the health and safety community to meet, learn and collaborate safely in September 2021.
Whilst 2020 has been a challenging year, this is a great opportunity for us to reflect and plan for the future. With brand new halls, new features, a revamped content agenda, an abundance of opportunities, The Health & Safety Event will our most exciting and ambitious edition yet. In the meantime, keep a look out on our website for upcoming virtual events in the new year. Our aim is to create the same exciting combination of inspiring speakers, immersive experiences and engaging activities that The Health & Safety Event has always offered. Visit our website here. 
Registration is open, so if you would like to reserve your ticket, please click here. 
We would like to thank you for your continued support during these difficult times and look forward to seeing you next September 2021.