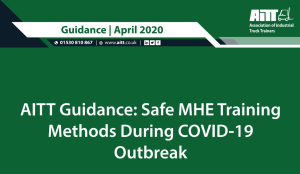 AITT guidance: Safe MHE training during COVID-19 pandemic
The Health and safety Executive have previously stated that the training for forklift operators still needs to be carried out during this Corona virus outbreak. Please see this previous post for more information.
Now AITT have issued detailed advice which should enable forklift operator training to continue during this period of social isolation.
Purpose of the document
AITT aim to support training providers, instructors, candidates and business, by introducing measures to help promote safe MHE training during the COVID-19 pandemic.
Background
Coronavirus (COVID-19) is mainly passed on from person-to-person and spreads through droplets produced when an infected person coughs or sneezes. It can also spread through contact with a surface or object that has the virus on it. Cleaning helps minimise the spread of coronavirus.
General rules for MHE training
Candidates who are unwell with symptoms of coronavirus should remain at home and self-isolate following government guidelines. They should not travel etc.
Candidates who are vulnerable to the virus (or live with individuals who are) should follow the recommendations on social distancing and shielding and they should not attend the course but should follow Government guidelines on self-isolating letting their line manager/supervisor know.
Instructors should check with each candidate that they do not have or live with, or have been in close contact with anyone who has COVID-19 symptoms - a high temperature – this means you feel hot to touch on your chest or back, a continuous cough – this means coughing a lot for more than an hour, or 3 or more coughing episodes in 24 hours (if you usually have a cough, it may be worse than usual).
If any candidate confirms any of the above-mentioned points, they should not attend the course and report to their line manager/supervisor. For essential workers who require training, outlined following is our guidance method statement, created to help achieve training safely. DOWNLOAD A FREE COPY HERE