Cause of forklift longitudinal instability summary
Get this complete set of slides as a Powerpoint presentation. Ready made training course for instructors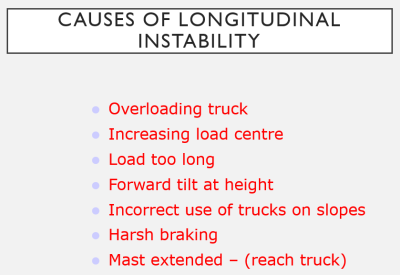 Forklift trucks can be caused to turn over in a forward direction by any or all of the following:
Overloading the machine
Increasing the load centre
Carrying a load that is too long
Using forward tilt at height when laden
Incorrect use of the truck on slopes
Harsh braking
Traveling with the mast extended on a reach truck
Disclaimer. The legislative information contained on this web site is my interpretation of the law based on many years in the health and safety business. A definitive interpretation can only be given by the courts. I will therefore not be held responsible for any accident/incident/prosecution arising as a consequence of anyone using any information obtained from this web site.