course links
Disclaimer
The legislative information contained on this web site is my interpretation of the law based on many years in the health and safety business. A definitive interpretation can only be given by the courts. I will therefore not be held responsible for any accident/incident/prosecution arising as a consequence of anyone using any information obtained from this web site

.
Pre shift checks training for forklift operators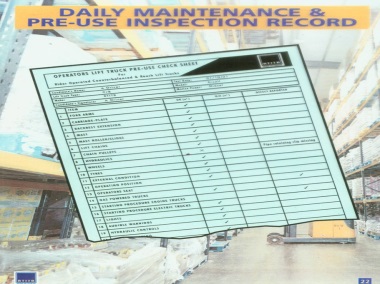 Forklift trucks should be checked over for safety at the start of every day. Where multiple shifts are worked, the truck should be checked before each shift. In addition, under the LOLER and PUWER statutes, every forklift must be given a thorough examination by a competent person at least once a year and every six months if the truck is used for lifting people.
For normal daily checks a record should be kept similar to the one shown above. This should be signed by both the operator and immediate supervisor. A sample pre-shift check sheet can be downloaded here.