Complete Powerpoint slide presentation for forklift instructors. Ready made training course
pre shift checks required by the 2017 test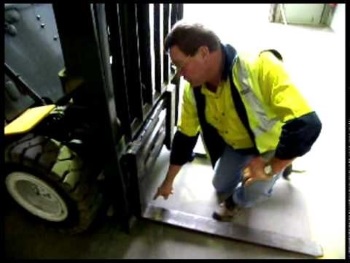 The latest forklift operator test, (introduced in 2017), like it's predecessor, requires the test candidate to demonstrate his/her knowledge of the pre shift checks that should be carried out to a forklift truck at the start of every day or every shift.
It's fair to say that the latest pre shift test part of the training course is more onerous than the old one as missing out certain checks, which have been deemed to be safety critical, will result in a candidate being referred on this part of the test.
The pre-use check is a visual and functional safety check. It must be carried out in accordance with the Lift Truck manufacturer's recommendations and/or the candidate's company organisational procedures.
Thirteen of the twenty two elements described in the pre-use inspection have been deemed safety critical and if missed/not checked there may be a significant risk to the health and safety of the operator and or any persons and infrastructure in the location of the lift truck. The following list of components are deemed as mandatory component checks. A candidate must carry out a full and correct check of these items, failure to do so will result in an automatic referral in this element of the test. These thirteen are listed below.
| | |
| --- | --- |
| Fork Arms/Attachment | Hydraulic Systems |
| Carriage Plate | Wheels |
| Mast | Tyres |
| Mast Rollers and Slides | Hydraulic Controls |
| Lift Chains | Drive and Braking |
| Lift Chain Pulleys | Steering. |
| Rated Capacity Plate | |
The remaining elements described and listed on the inspection sheet are still required to be appropriately inspected. The pre-use check sheets must be retained for future reference and the result recorded on the final assessment document
All checks must be carried out in accordance with the truck manufacturer's handbook. You can download full details of an instructor pre shift check sheet here, an operator pre shift check sheet here and full details of the test here.
Disclaimer: The legislative information contained on this web site is my interpretation of the law based on many years in the health and safety business. A definitive interpretation can only be given by the courts. I will therefore not be held responsible for any accident/incident/prosecution arising as a consequence of anyone using any information obtained from this web site.