Complete Powerpoint slide presentation for forklift instructors. Ready made training course
Forklift multiple choice written test practice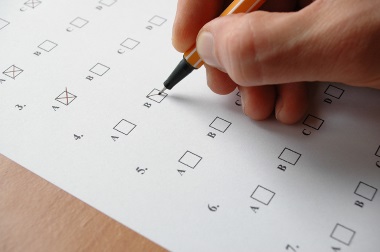 The questions below are all from the latest forklift operator written test which came into force on September 1st 2017. Each question has a choice of four answers.
If you don't feel like taking the quiz, all of the new test questions, complete with answers, are available here. You can view these in over one hundred languages by pressing the "select language" button at the top, right of the page.
There are 21 questions in the operational test and 17 in the safety test, five of which must be answered correctly else failure occurs. Ten from each catagory are chosen by the instructor.
I have had to use an external website to get these questions working properly so it's important that you do not leave this page or refresh your browser. Each test will open in a new window so choose a test below and having finished it, close it's window to get back here to do the other paper.
Please note that, unlike the previous test on this website, you will be "marked" as you go along as soon as you provide an answer. (Look for a green tick).
Click here to go to the forklift multiple choice safety test questions
Did you get eighty per cent? If so, well done. Remember on the real test you will get some of these questions but I cannot predict which so you need to know all the answers. That's because instructors have a pool of questions from which they choose twenty multiple choice ones. In addition there are some questions that must be answered accurately else the candidate fails the test.
If there are other people on the course with you they may or may not get the same questions or they may get some of them the same as you. This is to prevent copying.
In addition to the multiple choice questions there are a further five "open" questions where you have to write the answers down. These are not difficult. An example may be:
"List four things that may cause a forklift truck to turn over forwards"
You can find the answers to every question you might be asked by going through the training course on this website. If you don't do very well on the test you have just done, go through the slides once more and then take the test again. If you really insist on cheating you can find all the open questions and correct answers here. Naughty:-)
Don't worry about correct grammar and spelling on your real test: The instructor simply wants to know if you have been listening and you won't lose any marks. If you are dyslexic or English is not your first language, tell your instructor and they will test you orally. You can also go to the open question answers section and click on Google translate in the top corner of every page of this website.
Good luck on your real written test.
Disclaimer: The legislative information contained on this web site is my interpretation of the law based on many years in the health and safety business. A definitive interpretation can only be given by the courts. I will therefore not be held responsible for any accident/incident/prosecution arising as a consequence of anyone using any information obtained from this web site.