Complete Powerpoint slide presentation for training forklift operators. Ready made training course
Updates to Health & Safety Legislation and news from 2020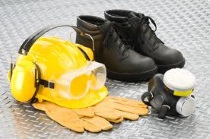 I decided to add this section to the website because many items of news relating to health and safety do not directly affect forklift trucks and forklift training but nevertheless are important to people or are closely related to the subject.
It would be impossible to keep up with all legislation changes and proposals on this website so I have been selective, choosing only those things that affect materials handling in general along with any related items.
For health and safety information that affects specifically forklift trucks and forklift training please check out the news items pages or the legislation pages.
---
September 6th 2023. Recent statistics reveal that if your business is prosecuted for a health and safety offence, you're much more likely to be convicted than for another criminal case. Read More
July 25th 2023. HSE have released their annual figures which look at fatal accidents in the workplace in the UK. Read More and download.
June 22nd 2023. The Health and Safety At Work Act will be 50 years old next year. Here is a look at the real impact to safety it has made. Read More
June 5th 2023. HSE is aware of a number of fires on, and around, liquefied petroleum gas (LPG) powered forklift trucks and other similar vehicles that have occurred during starting. Read More
February 11th 2022. Health and safety statistics for Great Britain 2020 -2021. Read More
July 28th 2021. Provisional data released from the HSE shows that a total of 142 workers were killed at work in Great Britain in 2020/21, an increase of 29 from the previous year. Read More
June 21st 2021. The Fork Lift Truck Association has urged those who use and maintain fork lift trucks to take action following the World Health Organisation's classification of diesel exhaust fumes as carcinogenic. Read More
May 18th 2021. This apprentice training incentive has recently come to my attention. I emailed HSE to ask if the scheme applied to funds used for training apprentices to operate a forklift truck. Read More
March 29th 2021. Five years on from the implementation of new court guidelines for sentencing HSE offences, IOSH says they have had a positive impact, persuading businesses to invest more in protecting workers. Read More
March 11th 2021. If you get an email from the HSE that looks like the one below it's almost certainly a scam. Read More
March 1st 2021. HSE have produced guidance on the reporting of Corvid-19 cases under the RIDDOR statutes and I thought it would be useful to reproduce it here. Read More
February 27th 2021. The Health and Safety Executive have provided advice for first aiders to follow in non health care settings some of which is reproduced Here. Read More
February 1st 2021. CFTS has advised businesses working with lift trucks to check if they are responsible for booking their equipment in for an inspection. Read More
January 11th 2021. HSE guidance on Corona virus and forklift training. Download information here. Read More.
January 5th 2021. HSE release annual statistic for accidents and ill health for 2019 to 2020. Read More
January 3rd 2021. RTITB have clarified HSE's position on the training of forklift operators during the Covid 19 pandemic. Read More
December 17th 2020. HSE are delighted to announce the beta release of a mobile app, designed to help organisations understand the law, their health and safety rights, and their responsibilities. Read More
July 6th 2020. The Health and Safety Executive has released its annual workplace fatality figures for 2019/20. The provisional annual data for work-related fatal accidents revealed that 111 workers were fatally injured. Read More
June 24th 2020. CILT and the Freight Transport Association have released the Good Practice Guide for Covid-19. Practical advice on how logistics businesses can restart their operations. Read More and Download
May 28th. Linde's truck call app aims to make social distancing easier for businesses with forklift trucks trying to get back to normal during the pandemic. Read More
April 30th 2020. AITT have issued detailed advice which should enable forklift operator training to continue during this period of social isolation. Read More and free download PDF
April 23rd 2020. Download a free ebook about corona virus. Can be redistributed. Read More and download.
April 3rd 2020. Corona virus: A joint statement between HSE, the TUC and the CBI. Read Statement.
March 28th 2020. HSE have issued guidance on the training and retraining of forklift operators during the COVID-19 pandemic. Read More
March 9th 2020. Here is an article by Peter Macleod of BITA which explains the Health and Safety Executive's position on low level hand pallet trucks. Read More
March 3rd 2020. The Health and Safety Event will be held on 28th to 30th April 2020 at the NEC, Birmingham, UK. The Health and safety Executive will have it's own theatre there. Read More
Disclaimer: he legislative information contained on this web site is my interpretation of the law based on many years in the health and safety business. A definitive interpretation can only be given by the courts. I will therefore not be held responsible for any accident/incident/prosecution arising as a consequence of anyone using any information obtained from this web site.