Complete Powerpoint slide presentation for training forklift operators. Ready made training course
watch out for this scam email apparently from hse
If you get an email from the HSE that looks like the one below it's almost certainly a scam. I'm not sure what they are after as I didn't click on anything but I did send it to HSE who have replied confirming it's a scam.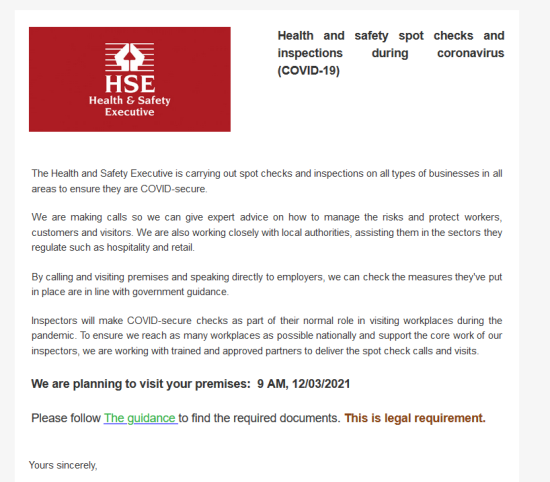 | | |
| --- | --- |
| Subject: | The Health and Safety Executive visit |
| Date: | Tue, 9 Mar 2021 16:12:12 +0300 |
| From: | The Health and Safety Executive <ryoji.yamamoto@ruby.dti.ne.jp> |
| To: | |
Look at the email address it's been sent from. I've had two in two days with very obscure email addresses. Don't click on any links, just delete it.
Disclaimer: he legislative information contained on this web site is my interpretation of the law based on many years in the health and safety business. A definitive interpretation can only be given by the courts. I will therefore not be held responsible for any accident/incident/prosecution arising as a consequence of anyone using any information obtained from this web site.