Forklift training course instructor's slide set - 130 slides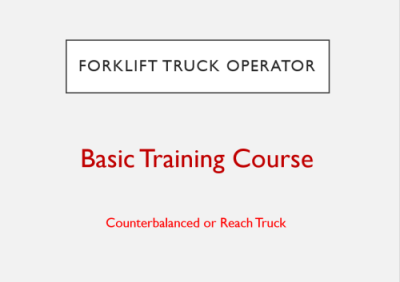 You can purchase my entire set of counterbalanced forklift theory slides as a PowerPoint presentation for £50.00.
There are 130 slides in the set and they include:
Health and safety legislation
Forklift truck longitudinal stability
Forklift truck lateral stability
Forklift capacity plates
Forklift operator's safety code
Lorry loading
Use of forklift on gradients
Complete set of pre-shift check slides
Heinrich's accident prevention theory
Forklift hydraulic diagram
You can reveiw all the slides by clicking on this link before you buy. (Opens in a new window).
Please note these are theory slides only. I collected and produced these over more than 40 years in the forklift industry and used them to train more than 5000 forklift operators all over the UK and as far away as Saudi Arabia.
They are aimed at counterbalanced forklift truck operators but can easily be converted for reach trucks and other machines. Please be aware that there are no notes on the slides but you are welcome to take the information from the course on the website.
I run this website as a retirement project to try to put something back into an industry which provided me with a good living for more than forty years and not with the intention of making money from selling slides. The sales do, however, help with the running costs such as website hosting etc.
After clicking below you will be taken to the payment page and then automatically redirected to the page where you can download the Powerpoint slide presentation. You can pay with PayPal or any major debit/credit card. If you have any trouble please contact me here.
�