Complete Powerpoint slide presentation for forklift instructors. Ready made training course
Safety products for forklift trucks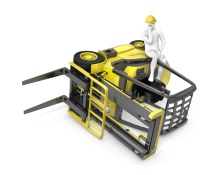 In this section you will find ideas that make forklift truck operation safer. Whilst this website is dedicated to forklift training in particular it follows that anything that can help to reduce the annual toll of accidents and deaths can only be a good thing.
I will detail new products that come to my attention with a link back to the appropriate website. It would be appreciated if the owners of such web sites do a reciprocal link back to this page. If you have a new(ish) product designed to improve forklift safety, you can contact me here.
Please note that I cannot vouch for the usefulness or safety of these products as I have no experience with them. I list them because users of forklifts might find them interesting. I have no financial interest in any product on this website.
August 17th 2021. SICK has developed a customisable, active collision warning system for manned forklifts. The SICK Backup Assistance System (BAS) alerts drivers to prevent collisions. Read More
April 21st 2021. I've just come across Doosan's guardian stability system for forklift trucks. This looks a little similar to Toyota's SAS system and would seem to provide somewhat similar safety benefits. Read More
March 15th 2021. Mitsubishi Forklift Trucks has overcome a key safety challenge on with a switchable option that allows the employer to ensure wearing a seat belt is mandatory. Read More
November 21st 2020. Mitsubishi Safety Zone. This is one of the best safety ideas for forklift trucks I have ever heard of. Read More
August 18th 2020. Narrow Aisle Ltd has announced the launch of the Flexi Smart Stop System – an 'in-aisle sensor' that immediately disables a Flexi articulated truck if its chassis comes in to contact with an object. Read More
March 5th 2020. If you are keen to avoid accidents between forklifts and pedestrians, check out ELOshield. It could be the answer to all your problems. Read More and watch video
October 29th 2019. Combi lift Multi-position tiller arm wins Design4Safety Award. Read More
September 3rd 2019. Check out this new system called I-stop. It prevents a lorry from moving whilst it is being loaded/unloaded. Read More
May 29th 2018. Linde Material Handling has launched a new hydraulic fork positioner aptly called "View" that improves operator visibility when handling loads. Read More
October 17th 2017. Check out this great safety feature for all companies that use forklift trucks. I've only just discovered Boplan's flexible safety barriers and wonder why this wasn't done by someone years ago. More
Feb 16th 2017. Live demos of the new Combilift Safe-Lift showed how drivers can avoid the pitfalls of tip-overloading. More
Jan 23rd 2017. The UK's top door manufacturer, Hörmann, is celebrating another successful product launch after releasing its first UK Wheelblocker – a new piece of safety equipment that locks lorries into the loading bay. More
June 4th 2015. Damaged racking? Don't replace, repair. Ros have an on site racking repair system which allows the racking uprights to be repaired without removing the product from the racking. More
January 16th 2015. If you use a telescopic materials handler or any forklift fitted with pneumatic tyres you might be interested in this new safety device from Comatra. More
January 2015. Comatra have designed this great product which makes pedestrians aware of an approaching forklift truck. More
August 2014. Check out this brand new idea for forklift trucks which makes it easy to get the forks dead level every time. More
Disclaimer: The legislative information contained on this web site is my interpretation of the law based on many years in the health and safety business. A definitive interpretation can only be given by the courts. I will therefore not be held responsible for any accident/incident/prosecution arising as a consequence of anyone using any information obtained from this web site.