Complete Powerpoint slide presentation for forklift instructors. Ready made training course
Elokon personnel detection systems for forklift trucks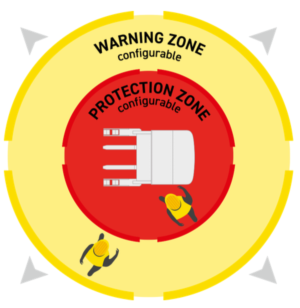 If you are keen to avoid accidents between forklifts and pedestrians, check out ELOshield. It could be the answer to all your problems.
ELOshield is the innovative personnel detection system from ELOKON. Anywhere where forklift trucks and personnel work in close proximity can constitute a hazard, and protecting the workforce is paramount.
ELOshield is a radio-based proximity identification system that considerably enhances safety by automatically detecting when a person enters the danger area surrounding a forklift. It can also be used to prevent collisions between forklift trucks or, with the stationary version, for monitoring danger areas such as busy intersections with high levels of internal traffic.
Individually configurable protection zones
ELOshield offers accident prevention using sophisticated warning zones. These zones can be programmed circularly, symmetrically, and even as user-defined fields, with a maximum range of up to 25 metres. Forklift trucks can safely pass other vehicles or pedestrians as they are automatically limited to their own path by the protective zone surrounding them, without causing false alarms.
ELOKON place high importance on providing expert advice that meets each and every customer's individual requirements. To achieve this, they are happy to visit you and analyse your needs. They oversee the complete project implementation - from initial consultation to system configuration, installation and commissioning - so you can source a complete solution from one single supplier. They will liaise with your industrial vehicle manufacturers on your behalf. Most OEMs have close working relationships with them, ensuring that their systems integrate smoothly with all your equipment types.
ELOKON will train your service and operating personnel to meet the standards defined together. Training can take place before, during or after commissioning.
They can also provide follow-up training as needed, (for example when new employees join the company). They can also provide you with a complete after-sales service programme, including repairs, spare parts, support and evaluation, so your investment retains its value.
ELOKON Website | You can see a video of ELOshield in action here
Disclaimer: The legislative information contained on this web site is my interpretation of the law based on many years in the health and safety business. A definitive interpretation can only be given by the courts. I will therefore not be held responsible for any accident/incident/prosecution arising as a consequence of anyone using any information obtained from this web site.