Complete Powerpoint slide presentation for forklift instructors. Ready made course.
forklift trucks and forklift training news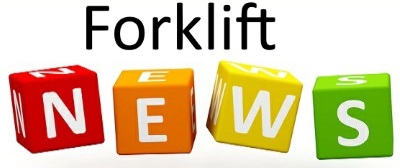 This section contains news items related to forklift training and health and safety matters. Latest entries are at the top of the page. Older News Items >>
---
July 27th 2021. Provisional data released from the HSE shows that a total of 142 workers were killed at work in Great Britain in 2020/21, an increase of 29 from the previous year. Read More
July 26th 2021. The HSE guidance note on thorough examinations (GN28) has been around since 2002 and has now been updated. Read More
July 12th 2021. RTITB has revealed lift truck training and assessment statistics for 2020 which could indicate an upcoming 'safety time bomb', where thousands of candidates are operating without up-to-date training. Read More
July 7th 2021. With the future of diesel forklifts under increasing pressure from ever-tighter regulations on emissions, sales of electric trucks have been accelerating. Read More
July 2nd 2021. RTITB will become the first accrediting body to issue lift truck operators with electronic ID cards, as opposed to physical photo ID Cards, starting from 12 July. Read More
June 29th 2021. Leading forklift truck manufacturer Linde Material Handling (UK) is delighted to announce their award win of a coveted 'Archie' for Ergonomics at the Fork Lift Truck Association (FLTA) awards. Read More
June 22nd 2021. The Association of Industrial Truck Trainers (AITT) is reminding owners and users of work equipment to allow more time when booking training courses, as the training sector is currently experiencing high demand. Read More
June 8th 2021. A metal manufacturer has been fined £80,000 following an incident involving a side loader fork truck. Read More
May 29th 2021. This article by Mitsubishi makes interesting reading for owners/users of diesel powered forklift trucks. Read More
May 27th 2021. For 2021, National Forklift Safety Day, (June 8th), is focused on the importance of accredited Thorough Examination. Read More
May 21st 2021. Jungheinrich Lift Truck Limited, based in Ireland, has saved time and met customer needs by implementing RTITB's eTruck UK forklift operator eLearning solution. Read More
May 20th 2021. Mentor has further developed its range of lift truck operator courses to continue to enhance the learning experience for delegates nationwide. Read More
April 30th 2021. A year into the COVID-19 pandemic, RTITB shares its learnings around lift truck training, what has changed, and how supply chain organisations are preparing for the future. Read More.
April 16th 2021. The much-anticipated FLTA Awards for Excellence was streamed live on Saturday 10th April to reveal who would finally be crowned winners. Read More
April 9th 2021. RTITB has launched a new forklift operator refresher training edition of its innovative eTruck UK online learning platform. Read More
March 26th 2021. With the NHS under great pressure due to the pandemic, now more than ever it is imperative that incidents requiring medical assistance, major or minor, are avoided. Read More
March 17th 2021. RTITB has developed a new training course for manual pallet truck operators to help reduce manual handling injuries in the workplace. Read More
February 21st 2021. The Fork Lift Truck Association (FLTA) has launched a brand-new website, complete with a modern look, fresh features and updated functionality. Read More
February 18th 2021. Tapping into the unique knowledge and resources of a reliable trade organisation can make all the difference to the safety of your operations says the Fork Lift Truck Association. Read More
January 29th 2021. The Association of Industrial Truck Trainers has launched a series of free electronic test forms to its members as a faster, more efficient alternative to physical paperwork. Read More
January 22nd 2021. UKMHA has been formed following the merger between the material handling industry's two most respected trade associations, the British Industrial Truck Association (BITA) and the Fork Lift Truck Association (FLTA) Read More
January 9th 2021. There are Important new testing standards for counterbalance and reach truck operator courses following updates made by the Accrediting Bodies Association for Workplace Transport (ABA). Read More
January 4th 2021. Details of banned and suspended training providers will be shared between members of the Accrediting Bodies Association for Workplace Transport (ABA) in a bid to maintain training standards. Read More
January 2nd 2021. Following a recent AITT standards committee, it has been agreed that the prerequisites for the AITT instructor course will be changed. Read More
Disclaimer. The legislative information contained on this web site is my interpretation of the law based on many years in the health and safety business. A definitive interpretation can only be given by the courts. I will therefore not be held responsible for any accident/incident/prosecution arising as a consequence of anyone using any information obtained from this web site.