Complete Powerpoint slide presentation for forklift instructors. Ready made course.
forklift trucks and forklift training news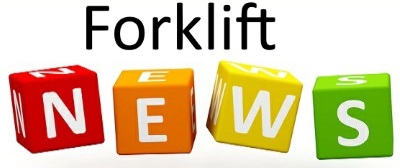 This section contains news items related to forklift training and health and safety matters. The latest items added can be found on this page and there are links to archived news items on the left. Latest entries are at the top of the page.
---
October 21st 2020. FLTA safety Drive 2020 - week three, This week they are putting the spotlight on forklift safety products that can be fitted to the forklift. Read More
October 23th 2020. FLTA Safety Drive 2020 - week two. This week they are putting the spotlight on forklift safety. Read More
October 12th 2020. AITT are very excited to launch their next generation of digital test paperwork, completely free, for their business members. Read More
October 9th 2020. Download a free copy of banksman's signals for use by forklift operators here. Read More and download.
October 7th 2020. iTRUK accreditation was only introduced in 2020 and aims to update forklift operator training in line with 21st century practices. Here is a recent review from one of it's customers. Read More
October 6th 2020. FLTA reveals safety drive for forklift trucks. Read More.
October 1st 2020. The Fork Lift Truck Association, (FLTA), has revealed details about a comprehensive on-site Audit. Read More
September 9th 2020. Could the Government fund your warehouse recovery? Read more about the scheme here.
September 1st 2020. AITT webinar to discuss future of workplace transport training Read More
August 17th 2020. Here is some information on a couple of events that have been rearranged due to the Corona virus pandemic. Read More
August 12th 2020. Ten ways to minimise Covid-19 risks during forklift training. Read More.
August 3rd 2020. CFTS have issued a warning stating that poor forklift truck thorough examinations could be a risk to life and must be completed by qualified engineers. Read More
June 23rd 2020. keep your forklifts safe with toyota's thorough examinations. Read More
June 14th 2020. Using RTITB's eTruck to provide refresher training for forklift operators. Read More and Watch Promo.
June 10th 2020. Forklift training should continue during the lockdown according to the health and Safety Executive. Meanwhile, eTruck can be used to help out, particularly with refresher training. Read More
June 8th 2020. The National Forklift safety day takes place on Tuesday June 9th. BITA have produced loads of free stuff, including videos, to help spread the message. Read More
June 2nd 2020. The national body for Thorough Examinations has given stay alert guidance. To support companies coming out of lockdown and resuming materials handling operations. Read More
May 22nd 2020. British Industrial Truck Association (BITA) is once again championing National Forklift Safety Day on Tuesday June 9th 2020. Read More
May 5th 2020. BITA has received Government recognition for its innovative action in helping to ensure the materials handling industry remains safe and fully operational during the Covid-19 pandemic. Download free fact sheets. More
May 1st 2020. The Association of Industrial Truck Trainers is calling for an improved understanding of workplace transport categories. Read More and download
April 28th 2020. St Clare Engineering has been nominated for a Fork Lift Truck Association Award for Excellence 2020 for it's quick attach drum grab attachment. Read More and watch video
April 11th 2020. FLTA creates online resource for latest COVID-related information. Read More
April 8th 2020. The Fork Lift Truck Association has issued an update, which is reproduced below, and which outlines the latest government information on the the current furloughing rules. Read More
March 30th 2020. RTITB has welcomed the introduction of the first industry-standard operating skills test for pedestrian operated lift trucks. Read More
March 26th 2020. Read the joint statement from the Health and Safety Executive (HSE), The British Industrial Truck Association (BITA) and The Fork Lift Truck Association (FLTA) More
March 25th 2020. A new, long awaited, accrediting body has been announced which will cater for forklift operators, instructors and small and large companies. Read More
March 23rd 2020. Companies could be wasting valuable production time due to forklifts being out of action following a Thorough Examination, warns CFTS. Read More
March 10th 2020. I recently wrote about Yale's precision controlled tiller head being a finalist at the FLTA awards for excellence. Linde is also a finalist with their N20 Butterfly design steering wheel. Read More
February 17th 2020. I can't resist an article about my old company being selected as a finalist in the Ergonomics and Innovation categories of the Fork Lift Truck Association (FLTA) Awards for Excellence 2020. Read More
February 8th 2020. Southalls are holding a free webinar on 26th February which may be of interest to both forklift operators and other industrial vehicle users. Read More
February 3rd 2020. RTITB has introduced a new way of training fork lift truck operators called eTruck. Full details are below. Read More
January 21st 2020. As usual at this time of year, organisations are releasing details of the various conferences and competitions for the forthcoming year. Here are the ones I've heard of so far. Read More.
December 9th 2019. Consolidated Fork Truck Services, (CFTS) clarifies the duties of forklift owners and operators to check equipment. Read More.
SEMA, the Storage Equipment Manufacturers Association, Have produced this short guide to racking inspection. Read More
Disclaimer. The legislative information contained on this web site is my interpretation of the law based on many years in the health and safety business. A definitive interpretation can only be given by the courts. I will therefore not be held responsible for any accident/incident/prosecution arising as a consequence of anyone using any information obtained from this web site.