Forklift written test. in use from 2017. multilingual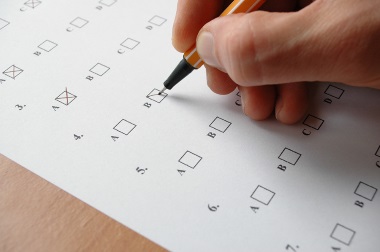 The theory test for persons attending a forklift operator training course has been revised. The new test came into force on 1st September 2017 and it's use is mandatory.
Questions have been updated and multiple choice questions now have four options for answers instead of three.
Five of the questions must be included in every test and getting any one of these wrong will result in candidates being referred on this part of the training.
Instructors/training companies have a master set of questions form which the questions for this test are selected. In the master set are twenty six open questions, seventeen multiple choice safety questions, (five of which are mandatory), and twenty one operational questions.
The test consists of twenty five questions made up as follows:
Five questions from the set of twenty six open questions
Ten questions from the set of seventeen safety questions. (Five mandatory)
Ten questions from the set of twenty one operational questions
Each question is worth four per cent of the overall mark and there are twenty five questions on every paper giving a total mark of one hundred per cent. Question papers given to trainees will not necessarily be the same as each other to avoid persons copying. People who have trouble reading may be given the questions orally.
The comments that follow are from the ABA's guide to trainers
"People for whom English is not their first language will have a translator provided. The Accrediting Bodies Association for Workplace Transport (ABA) strongly recommends that an accredited translator is used and that the answers given by the trainee are translated and written onto the answer sheet.
The translator must print and sign their name, and record their accrediting organisation and registration number, if any, for auditing purposes. If the translator is not formally accredited the customer must provide some other written evidence of the translator's competence, impartiality and suitability to provide translation for the test. This must be attached to the test documentation for auditing purposes. If such information is not available at auditing the test may be invalidated. The translator used must not be a co-trainee on the same course and must not alter the sense of any answers given by the trainee. Disciplinary sanctions may be taken in the event of any material changes being made by the translator to the trainee's responses. These may include the revocation of any certificate or registration awarded, and additional sanctions against the instructor or training provider".
All of the questions along with the correct answers are listed on this website. In an effort to aid instructors and trainees I have put Google translate on every page of this website. To use it, simply visit the page with the questions on you require and then click on the "select language" button at the top, right. Note: As the translations are done by computer they may not be perfect.