Complete Powerpoint slide presentation for forklift instructors. Ready made training course
forklift driver training or forklift operator?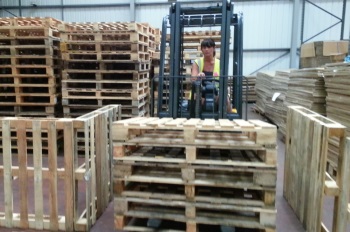 Forklift Driver Training is not a very good name for it. More properly it should be called forklift operator training because such people don't just drive vehicles. They are responsible for moving, stacking and de-stacking millions if not billions of pounds worth of goods a year.
As far as training operators goes, nowadays, most employers recognize that correct training for their forklift operators is important and take steps to arrange proper training courses conducted by accredited instructors working for accredited training companies.
It wasn't always like this and I can remember "proper" training companies "training" up to eight operators in one day. Of course nowadays they would be classed as pirates and wouldn't get much business but I'm guessing there are some still around.
When considering fork lift training bear in mind that, in theory anyone can train someone to drive a forklift truck. After all, it's just like a car isn't it?
The problem is that, although anyone can train someone else, it is very likely that the company who arranged for this to happen would leave themselves open to a prosecution under the Health and Safety at Work Act, section 2 (ac) and regulation 9 of PUWER in the event of an accident.
The act states that employers must take all reasonable practicable steps to ensure that employees are safe and that training has been carried out. By utilising another forklift truck driver to conduct the forklift training, (which is still practiced by some employers), a company runs the risk that the experienced forklift operator will either teach the newcomer bad habits or will fail to teach them important safety facts.
In addition, the Approved Code of Practice for the training of forklift operators has been around since April 1989 and this too emphasizes the need for proper forklift training to be carried out and also details the three stages of forklift operator training.
Accreditation of training
It is for this reason that an accreditation scheme exists. The accrediting bodies do their best to make sure that the forklift training companies who are accredited do actually conduct the training correctly. They lay down minimum course durations, they dictate what is taught and they invented both the written and practical tests. They also monitor forklift training companies to make sure the training is being done correctly and suitable records are being kept.
If you are responsible for arranging training you should keep in mind the above and make use of the accrediting bodies to make sure that your forklift training is being carried out to the correct standards. Be especially aware of anyone offering a one day course. One day is OK for re-tests with a maximum of three people attending. It is NOT allowed under ANY other circumstance. There are still some "cowboy" forklift training companies around so let the buyer beware! Also watch out for the famous "forklift licence", there is no such thing!
Re-training of forklift operators
I often get asked about refresher training or re-tests: i.e. are they mandatory and after how long? For a write up on these please click here.
Disclaimer: The legislative information contained on this web site is my interpretation of the law based on many years in the health and safety business. A definitive interpretation can only be given by the courts. I will therefore not be held responsible for any accident/incident/prosecution arising as a consequence of anyone using any information obtained from this web site.