Complete Powerpoint slide presentation for forklift instructors. Ready made course.
working on foot around forklift trucks by flta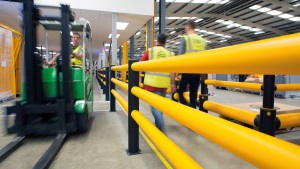 In this latest in our safety series we take a look at how pedestrians working alongside forklifts and warehouse trucks can help make operations as safe as possible.

Here are just some of the actions a pedestrian can take:
Where supplied, wear hi-vis clothing
Whenever a forklift approaches, stop and make sure the operator sees you. Make and maintain eye contact with the operator (which is why you shouldn't wear mirror or tinted safety glasses). If in doubt, always give way to the forklift. Our Safety Partner Mentor FLT Training has developed the 'Show Your Hand' communication system for use in any workplace where forklifts and pedestrians work together.  
Look both ways before stepping into an aisle, around a corner, or through a side door and between any obstacles. Be alert to blind spots in the work area.
Help ensure that aisles and adjacent areas are clear of obstructions (advise a supervisor where necessary).
Promptly clean up spills, broken pallets, plastic wrap and other hazards.
Never walk or work beneath loads on raised forks.
Only approach a forklift that has come to a complete stop. Approach from the side, never approach from the front or rear of the forklift.
If it is essential to be in the same area as a working truck, maintain a safe distance. When determining a safe distance, consider:

Width of the load – the longer the load, the wider the area of impact, should it fall.
Picking height – the higher the operating height, the wider the area at risk below.
Load structure, make-up and contents – further distance will be required if loads are volatile, high-risk or prone to movement in transit.
Driver distraction – if you being close (as a pedestrian) could affect the driver's concentration, think about moving a little further away.
Never allow yourself to be lifted on a pallet or forks.
Report unsafe behavior from forklift operators (and from other pedestrians).
Never try to steady a load that is slipping during a forklift loading operation
Take advantage of all measures designed to keep you at a safe distance from moving forklifts, including barriers, floor markings, etc.
Watch out for visual cues (blue beam to front and rear, or safety zone projected onto the floor around the perimeter of the truck) and keep your distance, particularly from delivery drivers whose vehicles become part of your operations during the loading/unloading process.
Disclaimer. The legislative information contained on this web site is my interpretation of the law based on many years in the health and safety business. A definitive interpretation can only be given by the courts. I will therefore not be held responsible for any accident/incident/prosecution arising as a consequence of anyone using any information obtained from this web site.