Complete Powerpoint slide presentation for forklift instructors. Ready made training course
New safety device from Combilift at IMHX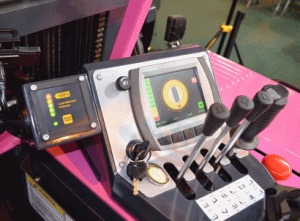 Combilift premiered a number of new developments at this year's IMHX, one of which will make a substantial contribution to safer working practices. Live demos of the new Combilift Safe-Lift showed how drivers can avoid the pitfalls of tip-overloading.
There are several factors that can influence a forklift truck to become overloaded and these include the load centre, the weight of load, lift height and the type of load. The load centre – the distance from the face of the forks to the centre of gravity of load - plays a crucial part. But as we cannot expect forklift operators to have to constantly do the maths, the Combi Safe-Lift makes life easier and safer for them.
The Combi Safe-Lift incorporates features to detect, monitor, alarm and shut down operation to eliminate the occurrence of tip-loading. A strain sensor on the mast detects when the load centre is extended or when the forks are not fully engaged. The green, amber and red traffic light signalling on the load moment indicator unit fitted to the dashboard in the cab gives the driver a clear overview of the status of the load. An audible alarm is activated when the risk level is reached and the lift cut out valve shuts down operation until the driver has rectified the situation.
MD Martin McVicar: "We offer the Combi Safe-Lift as an option at the moment but we believe that this simple and cost effective system should become a standard option on all counterbalance trucks in future. Unless they are operated correctly, forklifts are potentially lethal pieces of equipment and the number of incidents involving trucks every year is sadly still too high. Fitting a straightforward device such as the Combi Safe-Lift is an effective way to cut risks for the operators and other personnel, and also to avoid product damage as well as costly repairs."
Disclaimer: The legislative information contained on this web site is my interpretation of the law based on many years in the health and safety business. A definitive interpretation can only be given by the courts. I will therefore not be held responsible for any accident/incident/prosecution arising as a consequence of anyone using any information obtained from this web site.