Complete Powerpoint slide presentation for forklift instructors. Ready made training course
Multi-position tiller arm wins Design4Safety Award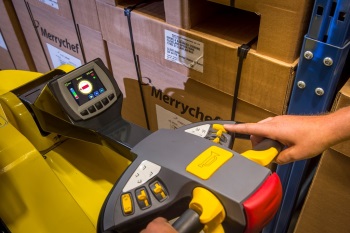 Combilift added yet another award to its ever growing tally when it won the Industrial Vehicles Category of this year's BITA (British Industrial Truck Association) Design4Safety Awards.
The company's reputation for designing innovative products and features to enhance safety in the materials handling sector was underlined once again with the success of its patented multi-position tiller arm, which is a feature common to all its pedestrian models.
Martin McVicar, Combilift's CEO and co-founder accepted the trophy from BITA Secretary James Clark during this year's Logistics awards in September. "We are very proud to be the winners of such an important award as safety is a crucial issue in our industry. Following the FLTA Safety award we received for the Combi-PPT earlier in the year, this highlights the fact that our product range is designed with the utmost safety in mind – not just for operators but for all employees who work with or in the vicinity of forklifts and industrial vehicles."
Combilift's unique multi-position tiller enables push button rotation of the rear wheel parallel to the chassis and back, allowing the operator to remain in the safest possible position when placing and picking in narrow aisles; at the side of the unit rather than behind it.This reduces the risk of the operator being crushed or trapped between the truck and racking and the excellent visibility reduces the risks of accidents involving other personnel.
Originally designed for the Combi-WR reach stacker, the tiller arm is now incorporated on Combilift's ever growing range of pedestrian models such as the multidirectional Combi-WR4, the Combi-CS counterbalance stacker and the Combi-PPT powered pallet truck.
Disclaimer: The legislative information contained on this web site is my interpretation of the law based on many years in the health and safety business. A definitive interpretation can only be given by the courts. I will therefore not be held responsible for any accident/incident/prosecution arising as a consequence of anyone using any information obtained from this web site.