Dangers of turning with a raised load
Get this complete set of slides as a Powerpoint presentation. Ready made training course for instructors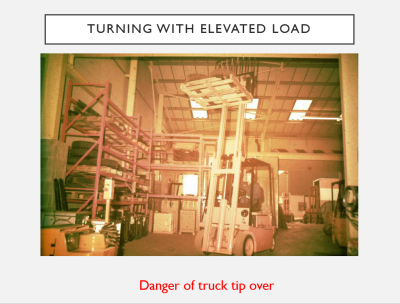 The forklift truck should never be turned whilst the load is elevated. This practice raises the centre of gravity of the machine and can easily lead to the truck turning over.
In the event that there is insufficient space to enable the operator to stack correctly, a full risk assessment should be conducted before attempting to turn with the mast of the truck elevated. Even then, it should only be done very slowly and carefully.
Disclaimer. The legislative information contained on this web site is my interpretation of the law based on many years in the health and safety business. A definitive interpretation can only be given by the courts. I will therefore not be held responsible for any accident/incident/prosecution arising as a consequence of anyone using any information obtained from this web site.