course links
Disclaimer
The legislative information contained on this web site is my interpretation of the law based on many years in the health and safety business. A definitive interpretation can only be given by the courts. I will therefore not be held responsible for any accident/incident/prosecution arising as a consequence of anyone using any information obtained from this web site

.
Crossing sunken railway lines and similar objects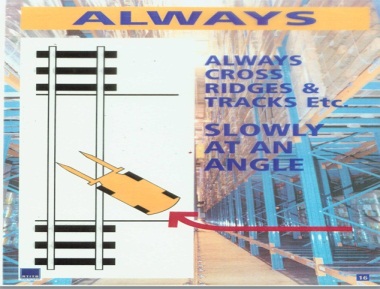 Obstacles such as the sunken railway sharp lines shown in the above slide of best crossed slowly and at an angle of 45°. The same argument also goes for similar obstructions such as rain gullies and the like. It should be noted that most forklift trucks will not safely negotiate a speed safety ramp,or "sleeping policeman" as the clearance at the bottom of the mast of the forklift is limited.