Get this complete set of slides as a Powerpoint presentation. Ready made training course for instructors
Don't pick up people on pallets and the like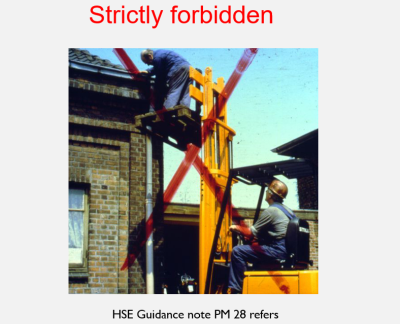 It is strictly forbidden to pick people up using a forklift truck. A look through the accidents section of this website will show why.
There are some exceptions to this rule which involve the use of a properly designed safety cage. For full details on the use of working platforms click here.
Disclaimer. The legislative information contained on this web site is my interpretation of the law based on many years in the health and safety business. A definitive interpretation can only be given by the courts. I will therefore not be held responsible for any accident/incident/prosecution arising as a consequence of anyone using any information obtained from this web site.