course links
Disclaimer
The legislative information contained on this web site is my interpretation of the law based on many years in the health and safety business. A definitive interpretation can only be given by the courts. I will therefore not be held responsible for any accident/incident/prosecution arising as a consequence of anyone using any information obtained from this web site

.
Lorry loading accident with forklift truck - Telford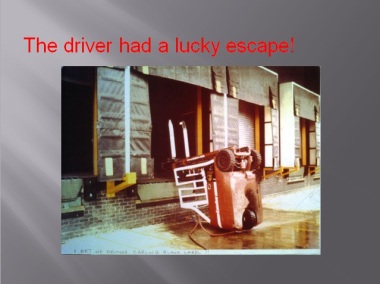 This company is no longer in existence at this location. In this accident the driver of the forklift escaped without injury. A lorry, driven by a Frenchman, was reversed into this loading bay. As it was late December and cold the lorry driver decided to keep himself warm by staying in his cab with his heater on and engine running. A passer by, who recognised him from a previous visit, raised his thumb and said "merry Christmas". As the driver didn't understand he took the raised thumb as a signal to move and drove off! No one was injured miraculously.