course links
Get a complete set of 130 Powerpoint slides for use by instructors training forklift operators
Positioning the trainees prior to demonstration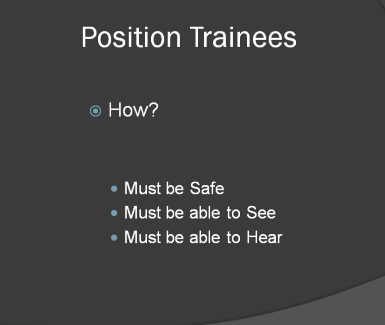 The instructor is responsible for the safety of the trainees. It therefore follows that the instructor must make certain that the trainees are out of danger whilst demonstrations are being carried out. There is a simple way to achieve this:
The trainees must be in a safe position
They must be able to see the demonstration
They must be able to hear instructor
Some lessons require the trainees to move during the demonstration. If this is the case the instructor should explain that this will happen before the demonstration takes place and then, at an appropriate point during the demonstration, the instructor can tell the trainees, "please move down there......." or wherever.
For safety reasons it's important that the instructor keeps control of the trainees at all times and does not let them wander around and possibly into danger. This may mean being quite strict with some people but so be it.
Disclaimer. The legislative information contained on this web site is my interpretation of the law based on many years in the health and safety business. A definitive interpretation can only be given by the courts. I will therefore not be held responsible for any accident/incident/prosecution arising as a consequence of anyone using any information obtained from this web site.