Complete Powerpoint slide presentation for forklift instructors. Ready made training course
BASIC STEERING WITH SECOND OBSTRUCTION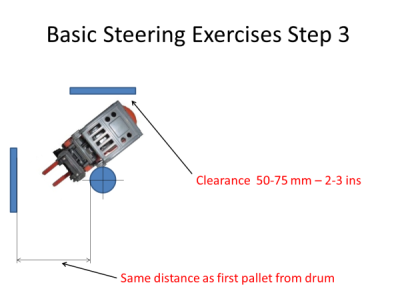 Carrying on from the previous lesson a second pallet or other obstruction is introduced. This is placed at right angles to the first one and should be the same distance from the drum as the first one. Pacing this distance out will usually suffice in order to get the dimensions correct.
The trainees practice in much the same way as that detailed on the previous page but of course, they have the added problem of missing the second pallet with the forks. It should be noted at this stage of the truck has no load on it. This will come later.
Disclaimer. The legislative information contained on this web site is my interpretation of the law based on many years in the health and safety business. A definitive interpretation can only be given by the courts. I will therefore not be held responsible for any accident/incident/prosecution arising as a consequence of anyone using any information obtained from this web site.