Complete Powerpoint slide presentation for forklift instructors. Ready made training course
Toyota (SAS) System overview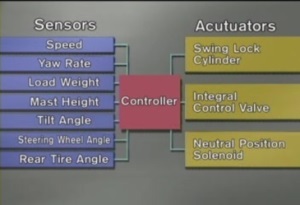 All the major truck functions are monitored by a series of sensors. These sensors comprise the following:
Speed sensor
Yaw rate sensor
Load weight sensor
Mast height sensor
Tilt angle sensor
Steering wheel angle sensor
Rear tyre angle sensors
The information provided by these sensors is transmitted to the controller
Toyota have produced a great video about their SAS system which can be viewed here


Disclaimer: The legislative information contained on this web site is my interpretation of the law based on many years in the health and safety business. A definitive interpretation can only be given by the courts. I will therefore not be held responsible for any accident/incident/prosecution arising as a consequence of anyone using any information obtained from this web site.