site links
Free courses
Disclaimer
The legislative information contained on this web site is my interpretation of the law based on many years in the health and safety business. A definitive interpretation can only be given by the courts. I will therefore not be held responsible for any accident/incident/prosecution arising as a consequence of anyone using any information obtained from this web site

.
Toyota (SAS) System. Swing lock axle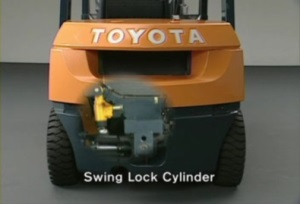 Under normal conditions, the centre mounted rear axle of a forklift truck articulates via a single pivoting central mount. The swing lock cylinder shown here is connected from the chassis to the rear axle and upon receiving a signal from the controller, instantly locks the axle and prevents it from articulating. This has the effect of changing the truck's stability triangle into a
rectangle.