Get this complete set of slides as a Powerpoint presentation. Ready made training course for instructors
Don't add additional weight to the forklift truck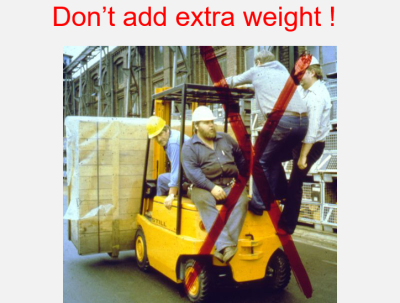 If the truck wont pick up the load, get a bigger truck or split the load into smaller parts. Adding extra counterweight is forbidden - either human or metal!
Trying to increase the capacity of the forklift truck in this way is both illegal and dangerous.
The other way to add extra counterweight is shown below! Can you imagine what this does to the rear axle? DON'T do it!
Disclaimer. The legislative information contained on this web site is my interpretation of the law based on many years in the health and safety business. A definitive interpretation can only be given by the courts. I will therefore not be held responsible for any accident/incident/prosecution arising as a consequence of anyone using any information obtained from this web site.