Complete Powerpoint slide presentation for forklift instructors. Ready made training course
Basic steering exercise. Steering around a drum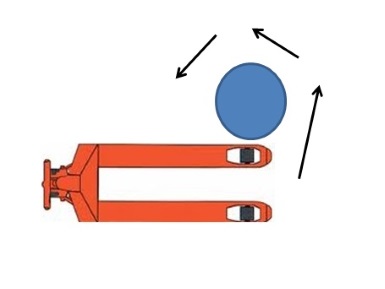 For this early exercise a cone or tin of suitable diameter should be used. Because pallet trucks steer in a similar manner to reach trucks, even a small tin will suffice although much lower diameter than 30 cm the exercise starts to become impracticable.
The trainee(s) should be instructed to steer close to the drum and without touching it. They should do this first to the left and then to the right.
These exercises should be carried out in a steady, controlled manner.
Disclaimer. The legislative information contained on this web site is my interpretation of the law based on many years in the health and safety business. A definitive interpretation can only be given by the courts. I will therefore not be held responsible for any accident/incident/prosecution arising as a consequence of anyone using any information obtained from this web site

.