Complete Powerpoint slide presentation for forklift instructors. Ready made training course
The operator should walk in confined spaces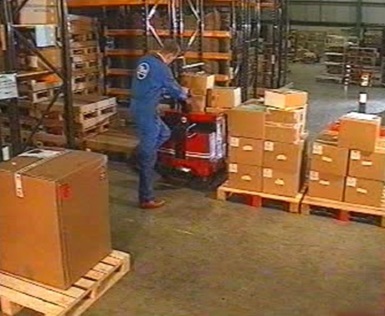 When a pallet truck has a fold up platform for the operator it should not be used in confined spaces. The operator should fold it up and walk.
Usually it's easier to have a pallet truck trailing behind the operator but in a confined space such as that shown above it's often better to turn around and face the truck to increase operator visibility.
Disclaimer. The legislative information contained on this web site is my interpretation of the law based on many years in the health and safety business. A definitive interpretation can only be given by the courts. I will therefore not be held responsible for any accident/incident/prosecution arising as a consequence of anyone using any information obtained from this web site

.