Complete Powerpoint slide presentation for forklift instructors. Ready made training course
Sideloader practical test step 4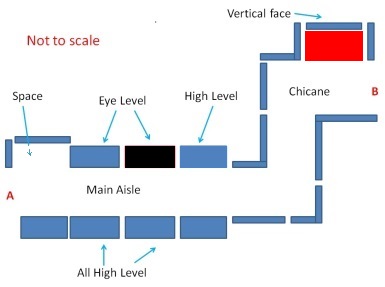 In this final step the load is picked up from the floor at A and driven right through the chicane once again. It is now stacked back on the floor against the vertical face shown. It should be close to and parallel to the vertical face.
Note that in some instances, companies may employ one way systems. If this is the case, rather than go against the one way system the sideloader should be driven right out of the aisleway at A. It should then be possible to drive in a circle so that it re-enters the chicane at B to complete it next manoeuvre.
It should be noted that it will be necessary to provide specific job training and familiarisation training to operators who have completed their basic training.
Disclaimer. The legislative information contained on this web site is my interpretation of the law based on many years in the health and safety business. A definitive interpretation can only be given by the courts. I will therefore not be held responsible for any accident/incident/prosecution arising as a consequence of anyone using any information obtained from this web site

.