Complete Powerpoint slide presentation for forklift instructors. Ready made training course
Serious alternative to lithium-ion batteries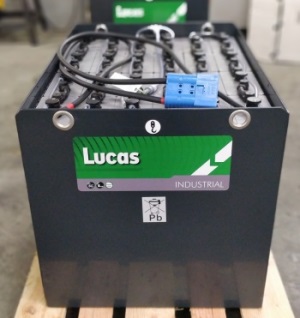 The Lucas CSM range of high performance 2-volt cell traction batteries, which incorporate copper stretch metal (CSM) technology to deliver day-to-day service levels are close to that of the much vaunted lithium-ion batteries that seem to be the warehouse and logistics industry's in vogue technology.
"One of the many challenges facing warehouse managers and business owners, is the financial balance that has to be found between embracing the most advanced technologies and applying the most cost-effective solution," explains Derek Anderson, Ecobat's Industrial's strategic director.
"In many circumstances, lithium-ion undoubtedly brings significant advantages over traditional wet lead-acid batteries, but of course the cost differential is huge, so a straightforward switch from one technology to the other, is not necessarily as clear-cut a decision as it might be at first thought.
"The growth in the interest and indeed use of lithium-ion has however, had another effect and that is to drive lead technology to a level not previously experienced, CSM being a prime example. This product has been designed to address the latest technological trends brought about by the lithium-ion revolution, to ensure uninterrupted and reliable operations in a wide variety of critical applications for a broad spectrum of industries, including the materials handling and logistics sectors."
CSM technology combines copper and lead to produce a product that has reduced internal resistance and can operate longer under the most demanding of conditions. The copper element is incorporated in to the cell's negative grid and ensures a more uniform current density distribution over the plate surface, whereas lead-antimony alloy is used for the diecast positive grid. This provides high tensile strength, corrosion resistance and excellent interface with the active mass. 100% red lead is used for the positive active mass, which is an extremely efficient formulation and means that the cell's full capacity is achieved after just three to five cycles.
Derek continues: "This combination of internal elements results in a battery that is able to operate under extreme temperatures and offer longer operating time due to its higher energy content, as well as faster charging through its reduced internal resistance.
"While we are not suggesting that Lucas CSM is a direct replacement for lithium-ion, in many applications it will prove to be an equally reliable and durable option, while being significantly less expensive. On the other hand, for operators that are presently using traditional lead-acid batteries and are considering upgrading to lithium-ion, Lucas CSM provides a compelling proposition, as it will deliver the performance upgrade and day-to-day user benefits they are seeking, at a fraction of the cost.
"Providing our customers with a wide range of credible options is central to our business practice, which is why Lucas CSM fits so well into the portfolio. Specifying the correct combination of products to deliver the best energy storage/charge solution with the greatest return on investment and therefore yielding value-for-money over the long term, is how we have built our customer-focused reputation, so this addition adds another string to Ecobat Industrial's bow."
In addition to the products and its wealth of knowledge and expertise, Ecobat Industrial also has a team of service engineers and a 13-branch network in locations from Scotland and North Wales, down to Bristol and across to Essex, through which it is able to provide a truly national service.
Disclaimer. The legislative information contained on this web site is my interpretation of the law based on many years in the health and safety business. A definitive interpretation can only be given by the courts. I will therefore not be held responsible for any accident/incident/prosecution arising as a consequence of anyone using any information obtained from this web site.