Complete Powerpoint slide presentation for forklift instructors. Ready made course.
companies urged to prioritise novice training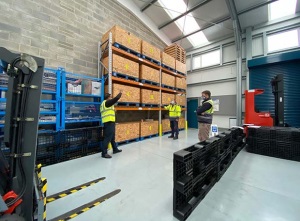 Accrediting body AITT advises businesses to plan training schedules further ahead amid instructor shortage.
The Association of Industrial Truck Trainers (AITT) is reminding owners and users of work equipment to allow more time when booking training courses, as the training sector is currently experiencing high demand. Adam Smith Managing Director of AITT explained: "The wait times for training courses are in some cases longer than normal, as many instructors are busy catching up.
"Our advice to businesses is to prioritise training for novices, to ensure that they have the skills and competence to operate work equipment safely. You should never allow untrained operators to use equipment, so it is important to focus on arranging training for new starters.
"We also suggest that businesses review their refresher training policy by conducting a risk assessment, and consider delaying refresher training by 3 to 6 months."
Over the past year the pandemic caused some training courses to be cancelled or delayed, and social distancing requirements meant those courses that did continue had to do so with fewer delegates.
With many companies now returning to normal operational service, the renewed need for operator training has resulted in a slight backlog in the availability of accredited training providers.
"If possible do not leave booking training courses until the last minute, as you may find that the accredited training provider you want is not available," said Adam. "Even though it may be tempting to choose an unaccredited training provider in the meantime, you should not compromise on the quality of training you receive".
"Accredited training comes with peace of mind that the training provider is following the highest standards in line with the latest industry guidance, and there are checks and balances in place to ensure that training is documented properly. With unaccredited training providers, there is a risk the training could be inconsistent or not in-depth enough."
For more information about AITT, or to find your nearest training provider, visit www.aitt.co.uk or call 01530 810867.
Disclaimer. The legislative information contained on this web site is my interpretation of the law based on many years in the health and safety business. A definitive interpretation can only be given by the courts. I will therefore not be held responsible for any accident/incident/prosecution arising as a consequence of anyone using any information obtained from this web site.