Complete Powerpoint slide presentation for forklift instructors. Ready made course.
key changes planned for workplace forklift truck categories
Industry association is inviting audiences to hear updates first-hand at annual summit.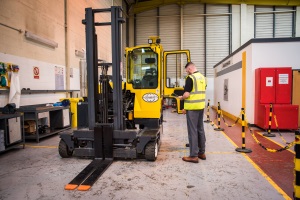 The Accrediting Bodies Association for Workplace Transport (ABA) will be discussing truck categorisation and important changes to testing standards as part of its online conference on 20th October 2021.
The event will reveal details of a planned review for all current truck categories, including the potential addition and removal of some groupings.
In particular the ABA will be examining an overhaul for category M (multi-directional trucks) as well as possible standards updates for categories A (rider and pedestrian low level and stacking pallet trucks) and F (very narrow aisle trucks).
Importantly, attendees will have an exclusive opportunity to have their say and take part in discussions during a Q&A session with ABA members.
Speaking at the summit will be Jason Dickson of NPORS, who was recently elected as new ABA Chair following the end of Adam Smith's two-year term in the role.
"It has been an honour to serve as ABA Chair and I wish Jason every success," says Adam Smith, Managing Director of AITT.
"Despite the challenges presented by the pandemic, it is important that testing standards and truck categorisation continue to be regularly reviewed and updated to align with changes in truck technology, regulations and legislation.
"It is the ABA's role to ensure consistency within these standards, and the accrediting body members have made significant strides over the last two years. We have introduced three new sets of testing standards, and facilitated a close working relationship with the HSE, as well as important associations such as the UKMHA.
"The ABA summit in October will be a great opportunity for anyone involved in the industry — from training providers and instructors to owners and operators of workplace transport — to stay up to date on the latest changes to standards and be the first to hear about the exciting things the ABA has planned for the future."
The ABA online conference will take place Wednesday 20th October from 10am to 12pm. To register for the event click here.
For more information about the ABA visit
www.abawtblog.wordpress.com
Disclaimer. The legislative information contained on this web site is my interpretation of the law based on many years in the health and safety business. A definitive interpretation can only be given by the courts. I will therefore not be held responsible for any accident/incident/prosecution arising as a consequence of anyone using any information obtained from this web site.