Complete Powerpoint slide presentation for forklift instructors. Ready made course.
changes to aitt instructor course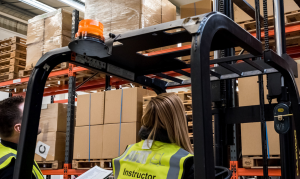 Following a recent AITT standards committee, it has been agreed that the prerequisites for the AITT instructor course will be changed.
Changes to the course prerequisites will now mean that candidates attending the 10 day AITT instructor course, must hold an accredited operator certificate, relevant for the course being attended, (e.g Counterbalance or Reach Truck), issued by a training provider accredited by an ABA member. (AITT, ITSSAR, RTITB or NPORS) 
The certificate must also display a traceable registration number for the candidate. (e.g ACORNS/TOPS/NORS) to validate it is an accredited certificate.

The candidate must have, as a minimum, at least 6 months experience and hold an accredited operator certificate
For experienced operators, they must have not gone beyond 3 years before the start of the course, since their original or refresher certified operator training course
Any candidates that attend the course without the above being in place, will not be registered onto the AITT instructor database. (Even if a test is conducted at the start of the 10 day course)
 
It is strongly recommended that candidates attending a re-registration course, or a direct entry AITT instructor course, also ensure that their operator certificate, is also refresher within the last 3 years before the course.
 
These changes will take effect from 1st March 2021. Any questions, please contact the AITT office.
Disclaimer. The legislative information contained on this web site is my interpretation of the law based on many years in the health and safety business. A definitive interpretation can only be given by the courts. I will therefore not be held responsible for any accident/incident/prosecution arising as a consequence of anyone using any information obtained from this web site.