Complete Powerpoint slide presentation for forklift instructors. Ready made course.
intuitive design impresses jury at flta awards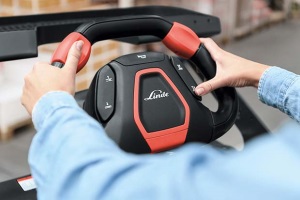 Leading forklift truck manufacturer Linde Material Handling (UK) is delighted to announce their award win of a coveted 'Archie' for Ergonomics at the Fork Lift Truck Association (FLTA) awards.
The Fork Lift Truck Association Awards for Excellence is an annual event that recognises the best in industry through engineering and design excellence. The awards aim to celebrate those in the fork lift truck sector who strive to raise standards in the industry, from manufacturers and suppliers to apprentices and innovative products. Usually the award ceremony is a black-tie event, but due to Covid restrictions, the event this year took place virtually.
It was the ergonomic steering wheel on Linde's N 20 C order picker which clinched the award for ergonomics. The unique design comprises a simple, neat 'butterfly' concept whereby controls for lift, traction and horn can be operated from both sides using thumbs and forefingers. This layout ensures an ergonomic and safe driving position, whereby operators are automatically looking in the direction of the fork arms when activating the main lift, a crucial factor for safety.
In addition to the award for ergonomics, four of Linde's 88 apprentices were recognised in the Apprentice of the Year category, Jack Congram, Stuart Denmark, Wesley Edmunds and Joshua Owen were all nominated for the Apprentice of the Year award by their training provider F-Tec, following outstanding performances during their Level 3 training. Jack and Joshua were awarded the runners up prize, with Wesley and Stewart awarded Highly Recommended.
David Honeyman, Talent Director at Linde Material Handling said "We are really proud of Jack, Stuart, Wesley and Joshua for being recognised at this event. It's such a fantastic achievement."
Linde's apprenticeship programme teaches a broad range of skills and theory needed to service and repair a large range of forklift trucks. Apprentices also have the opportunity to expand into other areas of the business using their transferable skills gained within the apprenticeship scheme.
Disclaimer. The legislative information contained on this web site is my interpretation of the law based on many years in the health and safety business. A definitive interpretation can only be given by the courts. I will therefore not be held responsible for any accident/incident/prosecution arising as a consequence of anyone using any information obtained from this web site.