Complete Powerpoint slide presentation for forklift instructors. Ready made course.
government changes red diesel rules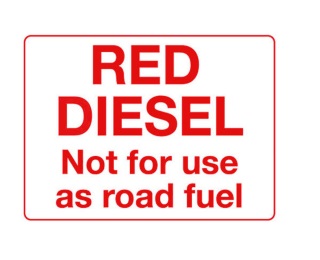 The UK Material Handling Association, (UKMHA), the trade body representing all aspects of the UK's material handling industry, has alerted lift truck operators to important changes in the permitted use of rebated fuels, such as red diesel.
The association said the government had announced restrictions on the use of red diesel in a move which Westminster claims more fairly reflects the harmful impact of diesel emissions. The changes are intended to incentivise users to improve the energy efficiency of their operations. The government said it also hoped the changes would encourage operators to invest in cleaner alternatives or more fuel-efficient machines.
Under the changes, the permitted uses for rebated fuels, of which red diesel is one, will be significantly reduced from 1 April 2022. It will then be illegal to put rebated fuel into a machine for uses which fall outside the scope of the new rules. Operators using red diesel will need to ensure that red diesel in their current machine – or storage - tanks are used up by the April deadline.
Those no longer permitted to use rebated fuel will need to use fuels (diesels or biofuels) upon which full excise duty is paid, such as white diesel.
David Goss, Technical Director, UKMHA said: "These changes will have a major bearing on the use of certain types of trucks and it is important that operators and hire companies are aware of their obligations ahead of the rule change.
"Likewise, Registered Dealers in Controlled Oil (RDCO) will also need to ensure they are aware of who they supply to and that excessive quantities of red diesel are not sold to users not permitted to use them prior to the deadline.
"Anyone needing further clarification can contact the UKMHA for help, while full details of the new requirements can be found on the government's own website."
Changes to rebated fuels entitlement from 1 April 2022 
The permitted uses for red diesel will be restricted to certain equipment used for:
Accepted purposes in agriculture, horticulture, fish farming and forestry
Rail transport
Fuel used for non-commercial purposes - heating and power generation
Community amateur sports clubs (CASC) and golf courses
Sailing, boating and marine transport (excluding private pleasure craft in Northern Ireland)
Travelling fairs and circuses
Within agriculture, the equipment allowed to use rebated fuels for permissible purposes includes:
Tractors
Non-road mobile machinery (NRMM), for example, unlicenced forklifts
Work trucks, for example, road licensed forklifts
Accepted purposes are specified in Excise Notice 75, clause 9, and include:
Growing and harvesting crops, ornamental plants, timber and others
Rearing of animals for production of food, wool and others
Excluded from permissible uses are:
Construction of structures/buildings for purposes relating to agriculture
Purposes relating to sport or recreation
Transportation of produce, inputs or waste, except in specified circumstances
However, exemptions apply in certain cases. Such as:
Equipment using rebated fuel used for permitted purposes for agriculture, horticulture, fish farming or forestry, can be used for any other purpose on the Private land where it is ordinarily kept, and,
Rebated fuel can be used to travel to and from the place where the vehicle is used, including on the public highway (so long as the vehicle is licensed).
The UKMHA said HMRC had confirmed to it that the use of red diesel would be permitted when a hire truck was moving from Farm A to Farm B via the hire company depot, so long as these journeys do not include any non-qualifying work.
For applications no longer permitted to use rebated fuel, the fuel in a vehicle/machine and in any storage tanks, should be used up before 1 April 2022. However, vehicle/machine fuel tanks do not need to be flushed, except where the equipment is switching between permitted and non-permitted uses. 
Storage tanks will only require flushing if they are owned/operated by an RDCO (Registered Dealer in Controlled Oil). However, stocks in storage tanks that cannot be used up prior to 1 April 2022 cannot be used for non-allowed purposes, although they can be sold to an RDCO or disposed of through an approved waste oil company.
Where a vehicle or machine is to be used for both allowed and non-allowed purposes, the requirement is to either: 
flush out the tank to remove all traces of rebated fuel when switching uses, or, 
use fully duty-paid diesel or biofuels for everything.
Equipment fuelled with red diesel whilst abroad and in a jurisdiction where this is allowed, can use up the remaining fuel in the tank when returned to the UK. It is not necessary to flush the tank so long as documentary evidence can be produced demonstrating that the vehicle has not been refilled unlawfully in the UK.
For hire equipment, from 1 April 2022, rebated fuel must not be put into a vehicle, machine or appliance for a use that is no longer allowed and any fuel in the equipment should be used up before the deadline. However, it is not required to flush the fuel tank except where the equipment is moving between permitted and non-permitted uses.
The hire company (owner of the vehicle/machine) is responsible for their own equipment, and it is their responsibility to make clear to users of the said equipment, which type of fuel can be used and for what purpose. In this way, the burden of responsibility is on the owner (hire company) to confirm that the tank has been either flushed to remove all traces of rebated fuel when switching uses or, instead, to ensure that only fully duty-paid fuel is used for all purposes.
The owner must ensure the correct fuel is put in the tank prior to hiring out their equipment and they must also take all reasonable steps to ensure the correct fuel is used in the machines when they are hired out, for example, when refuelled by the user. If the owner (hire company) finds red diesel in a tank once a machine has been returned, they will need to flush this out. 
Therefore, the UKMHA's advice to hire companies is to review their contract terms and to consider amending contracts to show that charges could be incurred by the user if they are found to be in breach of requirements.
"However, we have been informed by HMRC that they understand that the owner cannot always control what fuel any given user may put into the tanks and so will consider each case on its own merit," said Mr Goss. "If traces of red diesel are detected in the tank for a non-permitted use, the hire company will be asked to prove with receipts/invoices that they had put the correct fuel in the tank, as will the fuel user, in order to determine who was in the wrong."
In the case of Registered Dealers in Controlled Oil (RDCO), ahead of the April 2022 deadline, RDCOs have a responsibility not to supply customers affected by the changes with more rebated fuel than they can realistically use before the rule change. An RDCO that repurposes a storage tank from red to white diesel is required to drain and flush the storage tank. Anyone wishing  to stop being an RDCO needs to de-register and keep records to show how stocks of rebated fuel were disposed of.
There is further Government advice for RDCOs here.
For more information, visit www.ukmha.org.uk
Disclaimer. The legislative information contained on this web site is my interpretation of the law based on many years in the health and safety business. A definitive interpretation can only be given by the courts. I will therefore not be held responsible for any accident/incident/prosecution arising as a consequence of anyone using any information obtained from this web site.