Complete Powerpoint slide presentation for forklift instructors. Ready made course.
new forklift training courses enhance learning experience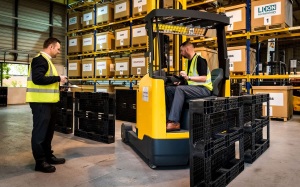 Mentor has further developed its range of lift truck operator courses to continue to enhance the learning experience for delegates nationwide.
The provider, who was recently awarded AITT's Excellence standard for its training, regularly reviews all courses to ensure they meet (or exceed) the latest H&S guidelines and best practice, but has taken its core counterbalance, reach and pallet truck courses a step further.
Mentor's Stuart Taylor explains: "We've always taken pride in the quality of our courses – not only are they accredited by leading bodies, they undergo rigorous internal development prior to release to ensure that they are of a high standard. Our most popular courses have recently received a fresh modern look, and we've included new video content and updated graphics to enhance the learning experience."
"Not only is it vital that operators understand the fundamentals of safe practice, but they must appreciate the severity of the consequences if they don't stick to it. That's why we've added some behavioural elements into more of our basic operator training courses, that encourage good practice for the long term."
To this end, Mentor's counterbalance and reach courses now incorporate a 'costs and consequences' section to reinforce the real-world impact of forklift accidents, which includes a hard-hitting film. This topic rarely features in basic operator training but, with 1,300 workers a year injured following such accidents, Mentor are keen to help build awareness.
Within these courses, more direct emphasis has also been placed on L117 Approved Code of Practice, to raise its profile as a key reference document and definitive guide to forklift training and safety.
What's more, Mentor's pallet truck courses have been further tailored in line with their respective ABA categories to ensure that the content of each course is even more specific to the particular truck, giving delegates the most relevant training.
To find out more about Mentor's accredited training courses visit their website
Disclaimer. The legislative information contained on this web site is my interpretation of the law based on many years in the health and safety business. A definitive interpretation can only be given by the courts. I will therefore not be held responsible for any accident/incident/prosecution arising as a consequence of anyone using any information obtained from this web site.