Complete Powerpoint slide presentation for forklift instructors. Ready made course.
ukmha safety drive 2021. Week 2 - training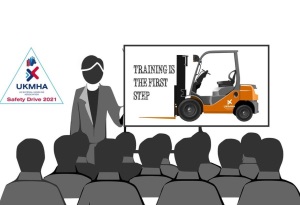 Safety is an essential part of any operation and we are committed to sharing the latest innovations and good practice advice through our latest campaign – UKMHA Safety Drive 2021. This week we focus on training and the vital role it plays in keeping your operation and staff safe.
Operator Training
Employers have a legal duty to ensure that operators of materials handling equipment have received adequate training.
Trained operators are less likely to be involved in a collision with other vehicles, pedestrians or objects.
They are less likely to cause damage to the equipment, reducing downtime and cost of repairs.
Improved operator performance will increase productivity.
There is no such thing as a forklift licence, so before authorising any employee to operate a truck, the employer must ensure proper training has been completed to guarantee competency.
Competence requires:
BASIC TRAINING – such as provided by a third-party training provider. This will include an explanation of safety systems and truck stability, but, by itself does not ensure competence.
SPECIFIC JOB TRAINING – covering the actual truck, loads and site. This should include site conditions, rules and hazards, and instruction in load handling and safe systems of work.
FAMILIARISATION TRAINING – supervised practical experience of specific work activities.
REFRESHER TRAINING - Operators, even those who are trained and experienced, need to be routinely monitored in the workplace and, where necessary, retested or refresher trained to make sure they continue to operate lift trucks safely.
Disclaimer. The legislative information contained on this web site is my interpretation of the law based on many years in the health and safety business. A definitive interpretation can only be given by the courts. I will therefore not be held responsible for any accident/incident/prosecution arising as a consequence of anyone using any information obtained from this web site.