Complete Powerpoint slide presentation for forklift instructors. Ready made course.
flta safety drive - week four. protect pedestrians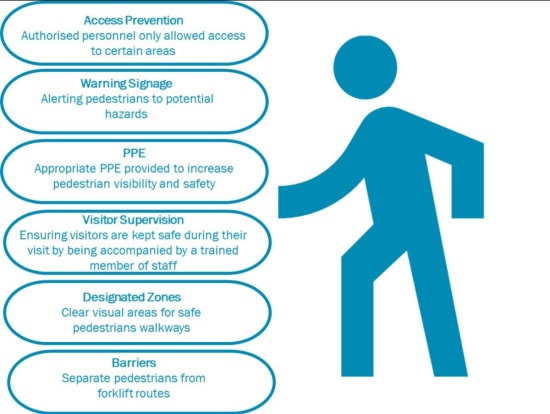 This week the FLTA explore different ways to keep pedestrians safe. In industrial workplaces, vehicles and pedestrians share the same space and have to work in extreme close proximity to each other. Without safety precautions there can be devastating results.
PPE
Enforcing a minimum requirement for pedestrians to wear hi-viz jackets and toe-capped footwear will reduce the risk of injury
Depending on your operation, additional PPE should be made available and compulsory for staff and visitors, including ear defenders, head protection and eyewear.
Visitors must also comply with your operations' PPE requirements to reduce the risk of injury to them
Making PPE mandatory as part of your health and safety policy will ensure compliance and improve safety overall.
Access Prevention
If the area is particularly hazardous then introducing an access prevention system will prevent unauthorised personnel from entering
A locked door that can only be opened with a code or a swipe card should ensure that only trained and authorised staff can enter reducing the risk of other pedestrians entering hazardous areas.
Barriers
To prevent pedestrians entering hazardous areas safe walkways should be created and clearly marked with lines and/or barriers.
Warning Signage
To ensure pedestrians remain safe from injury, all hazardous areas must have adequate signage explaining what the potential hazards are, what PPE is required and which areas pedestrians must not enter.
Designated Zones
Safe pedestrian routes should not only be separated with barriers but also clearly marked on the floor, at entrances and exits, and along the whole route reducing the risk of them entering dangerous areas
By law, traffic routes must also keep vehicles routes far enough away from doors or gates that pedestrians use, or from pedestrian routes that lead on to them, so the safety of pedestrians is not threatened.
Visitor Supervision
Visitors must be accompanied at all times to avoid them entering dangerous areas
They must made aware of safety requirements before commencing any tour and supplied with the appropriate PPE before entering to keep them safe from hazards
Disclaimer. The legislative information contained on this web site is my interpretation of the law based on many years in the health and safety business. A definitive interpretation can only be given by the courts. I will therefore not be held responsible for any accident/incident/prosecution arising as a consequence of anyone using any information obtained from this web site.