Complete Powerpoint slide presentation for forklift instructors. Ready made course.
forklift safety signals. A useful free chart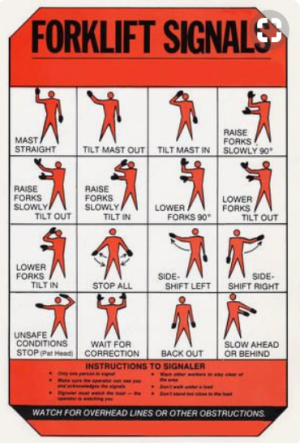 Neon Materials Handling have produced a set of banksman's signals aimed at forklift operation. I used to use something along these lines when I was working at the Channel Tunnel in the early nineties and we had to invent our own signals.
HSE publish approved banksman's signals. The standard signals are given in the Health and Safety (Signs and Signals) Regulations 1996 L64 which is available from HSE Books but they are not specifically designed for fork lift truck use like the ones shown here.
The HSE guidance is for employers, duty holders and others who have responsibility for the control of workplaces, sites and premises. It is also for those operating equipment that requires verbal and/or non-verbal communications. It sets out what you should do to comply with the Health and Safety (Safety Signs and Signals) Regulations 1996.
Safety signs and signals are required where, despite putting in place all other relevant measures, a significant risk to the health and safety of employees and others remains.
Signs must be clear and legible, and should be used to identify actions that are prohibited (eg no access), safeguards that must be followed (eg ear protection must be worn), warning of a hazard (eg corrosive material) and to direct towards fire exits/equipment or first-aid equipment.
HSE advises that you should avoid using too many signs which may cause confusion.
To download the safety signal picture shown, click here. Disclaimer. The legislative information contained on this web site is my interpretation of the law based on many years in the health and safety business. A definitive interpretation can only be given by the courts. I will therefore not be held responsible for any accident/incident/prosecution arising as a consequence of anyone using any information obtained from this web site.