Complete Powerpoint slide presentation for forklift instructors. Ready made course.
gn28 thorough examinations for forklift trucks updated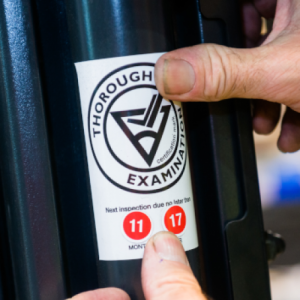 The HSE guidance note on thorough examinations (GN28) has been around since 2002 and has now been updated. GN28 is guidance produced by the industry on how to comply with the legal obligations for thorough examination (LOLER) and Safety Inspections (PUWER) for industrial and rough-terrain lift trucks including variable-reach trucks (telehandlers). The changes are listed below.
First placement into service and date of first examination – clarified
Where the safety of the equipment is not dependent on installation or on-site assembly, then a current Thorough Examination or manufacturer's Declaration of Conformity is sufficient. However, the interval between Examinations shall not exceed the scheme of inspection.
Inspection intervals for lorry-mounted trucks and various attachment types – clarified
Lorry-mounted trucks where the operator can be lifted with the truck as part of the mount/dismount sequence require TE at least every 6 months (more frequently if conditions require, for example corrosive environment).
Attachments not permanently mounted to the truck require examination at least every 6 months.
Examination requirement following exceptional events – added
An additional TE is required before reintroduction into service following any exceptional event that may affect safety, for example, impact or overload.
Actions required when it is not possible to commence or complete a Thorough Examination – updated
If it is not possible to complete a TE within the scheduled period, then the truck should be removed from service until such time as the Examination is satisfactorily completed.
If the Competent Person is unable to complete a TE due to a serious defect of the lifting parts, then they must inform the relevant Enforcement Authority (rEA).
Additional inspection requirements for LPG systems – added
TE of LPG fixed tanks and removeable cylinders is required by law, but is outside of the scope of GN28
Additional checks for assistance systems and pedestrian controlled and ride-on trucks – added
Where fitted, operator assistance systems, safety cut-offs and speed reductions must be working correctly.
Recommended test criteria for load handling and braking – added
Creep of the load handling system should be assessed with a representative load and the hydraulic fluid at the normal working temperature. Where there is doubt further testing should be specified on the report of Thorough Examination.
Parking brake performance can be verified by ensuring that it holds the truck stationary on the maximum operating site gradient when carrying a representative load.
Detailed requirements for ATEX protective systems – removed from scope
Due to the diverse solutions and special training requirements, the specific requirements for Thorough Examination of the protection systems for potentially explosive atmospheres are not covered.
Actions upon completion of a TE updated and guidance on statutory reporting obligation – provided
Where there is a defect or imminent failure in the lifting equipment involving a risk of serious injury, for example, chain or fork wear beyond replacement limits, or a missing or defaced capacity/data plate, the examiner must send a copy of the report to the relevant enforcement authority (rEA) as required by LOLER.
Generally, the rEA will be the HSE for all lease and rental trucks, and for factories and manufacturing sites, or will be the Local Authority for retail, warehousing and distribution sites (except for lease and rental trucks).
Any imminent serious failure of any safety critical parts not associated with lifting loads can also be reported to the HSE or relevant local authority.
Other updates are:
Reference to legislation updated and references to NI legislation – added

Requirements for Competent Persons – updated

Requirement for operating instructions to be available – added

Categorisation to LOLER and PUWER – added

Table of Contents – added

Bibliography – updated

Sample report of TE and check list updated and example labels identifying equipment status – added
More information can be found on the UKMHA website and the original GN28 can be downloaded here.
Disclaimer. The legislative information contained on this web site is my interpretation of the law based on many years in the health and safety business. A definitive interpretation can only be given by the courts. I will therefore not be held responsible for any accident/incident/prosecution arising as a consequence of anyone using any information obtained from this web site.