Complete Powerpoint slide presentation for training forklift operators
teenager killed in forklift accident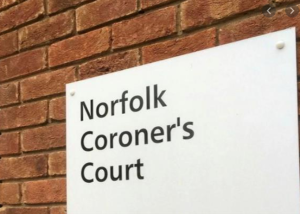 A coroner's court has heard that a Dereham teenager died after a crush injury from a farming incident involving a forklift. Eighteen-year-old Zachariah Nathaniel Richardson died last month, (October 2020), in Thorpe Row, Shipdham, near Dereham.
Richardson, who worked as a yardman at a farm, was left to tidy the yard of wooden pallets using a forklift, and when farm manager Evan Jenkins later returned, he discovered him pinned against the wall of a barn by the forklift, which was still running.
Emergency services attended the scene and attempts at CPR were made, but all failed. An inquest into the death has been adjourned until 26 January 2021 and the HSE is aware of the incident and is making enquiries alongside Norfolk Police
Note: Links to older accidents were removed during the website update Sept 2020
Disclaimer: The legislative information contained on this web site is my interpretation of the law based on many years in the health and safety business. A definitive interpretation can only be given by the courts. I will therefore not be held responsible for any accident/incident/prosecution arising as a consequence of anyone using any information obtained from this web site.