Complete Powerpoint slide presentation for forklift instructors. Ready made training course
Loading dock safety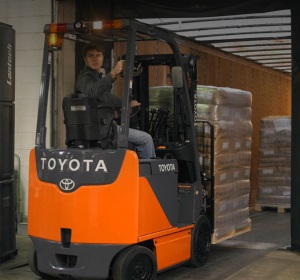 Here is a useful article by Jake Stewart from Toyota Forklift trucks about loading dock safety along with some advice about correct lorry loading procedures by the UK Health and safety Executive.
Forklift accidents can happen anywhere, but because loading docks are typically narrow and elevated, they're one place where extra caution should be used. Common loading dock incidents include falling off the edge of the dock, and skidding or slipping due to wet or icy conditions. So how can the risk of loading dock accidents be reduced?
Secure the trailer
First and foremost, make sure the trailer is secured to the dock using a locking device, either on the trailer's rear impact guard or rear wheel.  One common and dangerous issue that can arise when loading and unloading trailers in a loading dock, is the truck driver not realizing the forklift is still in the truck and pulling away, which causes the forklift to roll out.
"Trailer Creep", which happens when trailers gradually move away from the dock because of constant movement inside them, can also happen. The only way to prevent these two things from happening is to completely secure the trailer with a locking device on the trailer's rear impact guard or rear wheel.
Clean off the surface of the loading dock. One common cause of accidents involving forklifts and loading docks is ice or water covering the dock. Clean the dock off before operating the forklift on it to help prevent sliding issues.
Also, remember to always maintain a safe distance from the edge of the loading dock. There is no recommended specific measurement between a forklift and the edge of a loading dock, but you should implement good judgment to avoid falling off the side of the loading dock. Painting the edges of the loading dock a bright color is one thing you can do to help forklift operators stay aware of dock edges.
By doing the three things above, you're well on your way to reducing accidents on loading docks, but keep these things in mind too:
Anyone operating a forklift should be trained. Proper operating training is the number-one way to prevent accidents.

Implementing a daily loading dock inspection is important to the safety of operators and truck drivers alike.

Keep the product secure on your pallets by covering them in plastic or metal.

Double check floors of trailers before driving on them to ensure they're sturdy enough to handle the weight of the forklift.

Consider creating a dock shelter to keep rain and snow off loading docks, which can cause them to be slippery.
The Health and Safety Executive also have guidance on the safe loading/unloading of lorries which is reproduced below:
Loading and unloading areas should be:
Clear of other traffic, pedestrians and people not involved in loading or unloading.
Clear of overhead electric cables so there is no chance touching them, or of electricity jumping to 'earth' through machinery, loads or people.
Level. To maintain stability, trailers should be parked on firm level ground,
Loads should be spread as evenly as possible, during both loading and unloading. Uneven loads can make the vehicle or trailer unstable.
Loads should be secured, or arranged so that they do not slide around. Racking may help stability.
Safety equipment must be considered. Mechanical equipment and heavy moving loads are dangerous.
Guards or skirting plates may be necessary if there is a risk of anything being caught in machinery (for example dock levellers or vehicle tail lifts). There may be other mechanical dangers and safety procedures to be considered.
Ensure the vehicle or trailer has its brakes applied and all stabilisers are used. The vehicle should be as stable as possible.
In some workplaces it may be possible to install a harness system to protect people working at height. Provide a safe place where drivers can wait if they are not involved. Drivers should not remain in their cabs if this can be avoided. No-one should be in the loading/unloading area if they are not needed.
Vehicles must never be overloaded. Overloaded vehicles can become unstable, difficult to steer or be less able to brake.
Always check the floor or deck of the loading area before loading to make sure it is safe. Look out for debris, broken boarding, etc.
Loading should allow for safe unloading.
Loads must be suitably packaged. When pallets are used, the driver needs to check that they are in good condition and loads are properly secured to them.
Loads are safe on the vehicle. They may need to be securely attached to make sure they cannot fall off.
Tailgates and sideboards must be closed when possible. If over-hang cannot be avoided, it must be kept to a minimum. The over-hanging part of the load must be clearly marked.
If more than one company is involved, they should agree in advance how loading and unloading will happen.
For example, if visiting drivers unload their vehicles themselves, they must receive the necessary instructions, equipment and co-operation for safe unloading. Arrangements will need to be agreed in advance between the haulier and the recipient.
Some goods are difficult to secure during transport. Hauliers and recipients will need to exchange information about loads in advance so that they can agree safe unloading procedures.
More information is available in the free forklift training course which is to be found elsewhere on this website. Toyota forklift website
Disclaimer. The legislative information contained on this web site is my interpretation of the law based on many years in the health and safety business. A definitive interpretation can only be given by the courts. I will therefore not be held responsible for any accident/incident/prosecution arising as a consequence of anyone using any information obtained from this web site.