Complete Powerpoint slide presentation for forklift instructors. Ready made training course
checklist for signs of forklift abuse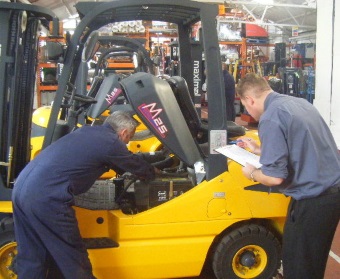 Although the previous twelve points mentioned in this feature should cover almost every possible situation, it's worth noting the following signs of abuse.
There is no substitute for an extensive examination by an expert, ideally your own in-house service engineer if you have one. Here are some key points that should be looked for. Why not print out this checklist and take it with you when you inspect the truck.
Damage to overhead guard or backrest
Low oil pressure
Worn rings or valves
Radiator damage
Rust in engine coolant
Discolored transmission fluid
Bowed or scored mast channels
Score marks on the mast or cylinder rods
Downward drift of an elevated carriage
Leaking hydraulic control valves
Absent or suspicious CE mark
Fork arms with cracks, welds, bends or excessive wear
Loose steer axle knuckles or tie-rod ends
Chassis cracks or signs of re-welding
Heavy rusting on the chassis
Missing safety equipment
High truck hours (over 1,000 hours per year since new)
Uneven tyre wear
Fluid leaks under the truck when idling for 10-15 minutes
Excessive noise from motor when carrying a load
Sooty residue in the exhaust pipe
Brakes should stop smoothly and in a straight
Operator manual in your own language
Conclusion
If you need a truck as a spare or only have occasional use for one, buying used may well make sense. It's not always possible, but, if you're in any doubt, you could take the unusual step of asking if you can hire the machine for a few weeks before committing to buy. If your business depends on the truck, it's a better business decision to buy new, possibly with an extended warranty. Whatever you decide, take as much care as you would buying a car – and look for a manufacturer with a proven track record of reliability.
Disclaimer. The legislative information contained on this web site is my interpretation of the law based on many years in the health and safety business. A definitive interpretation can only be given by the courts. I will therefore not be held responsible for any accident/incident/prosecution arising as a consequence of anyone using any information obtained from this web site.