Complete Powerpoint slide presentation for forklift instructors. Ready made training course
Yale celebrates 100 years of electric trucks with lithium-ion product line extension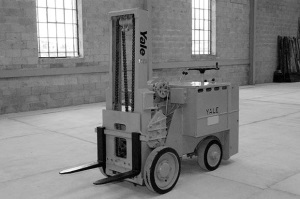 Alternative power solutions are a rapidly growing aspect of the materials handling industry as customers become increasingly guided by the environmental impact of their choices. For Yale, the idea of alternative power solutions is a concept that began 100 years ago.
In 1920, Yale & Towne introduced its first electric forklift truck to the materials handling market. With this release, alongside a wide range of new materials handling equipment, the Yale brand was officially born. (Please see my history of Yale forklift trucks at the bottom of this article.
Since then, Yale has continually developed its power solutions, applying its 'People. Products. Productivity.' philosophy to understand the challenges faced by its clients, and how to best overcome these.
Proud past, exciting future!
Electric and alternative power solutions have played an important part in the history of Yale.
In 1920 Yale and Towne launched a new battery powered low-lift platform truck.
In the 1930s Yale developed innovations such as power steering, center-control trucks, caster steering and the use of high heat-resistant Class-H silicon insulation in electric motors.
In 1964, there was further innovation when Yale introduced the first Silicone Controlled Rectifier (SCR) – controlled electric fork lift truck.
Yale opened its Greenville, North Carolina plant to produce electric trucks in 1974.
A new generation of electric counterbalance trucks were introduced in 2009.
"As a company we are incredibly proud of our heritage and reaching this 100-year milestone is something that all of our employees, clients and customers can be proud to be associated with," said Iain Friar, Yale Brand Manager, EMEA.
"While we have a well-established global heritage, Yale demonstrates its forward-looking perspective by investing in technologies such as robotics and alternative power options. The Yale® range is reflective of an industry that is now guided more by its environmental impact than ever before.
"100 years on from the first battery-powered low-lift platform truck, a traditional lead acid battery is still by far the most common choice of powering electric materials handling machines."
Coinciding with the centenary of the first electric truck, Yale is pleased to announce the extension to its range of lithium-ion power solutions on select models as standard.
Lithium-ion product line extension
Previously available through the company's Special Engineering Department, Lithium-ion power solutions are now available as standard across the Yale electric truck range, from counterbalance forklift trucks up to 5.5t to warehouse rider and pedestrian trucks.
Lithium-ion batteries are one of the most popular power solutions, with greater productivity and improved total costs being highly beneficial to a range of customers. The lithium-ion solution helps customers optimise their utilisation in multi-shift applications by eliminating the need for replacement batteries and battery change-overs. Space previously used for battery charging can now be used for more productive purposes, such as storage space or production.
"Use of lithium-ion batteries has seen rapid growth over recent years. Greater numbers of customers are finding this battery technology commercially viable. For example, food and pharmaceutical applications benefit from the reduced risk of chemical spillage, while automotive, retail and logistics applications reap the rewards of utilising a single battery for a multi-shift operation," said Ivor Wilkinson, Solutions Manager at Yale.
"The range extension for lithium-ion is a reflection of Yale listening and responding to our customer's needs. However, we recognise power solutions for materials handling equipment are constantly evolving, that's why we are always continuing to develop our power options and invest in new technologies to anticipate future customer requirements," continued Ivor.
"While we reflect on a wonderful 100 years since the production of our first electric truck, we are already looking ahead to the future with the technology that will power Yale trucks into the next 100 years!"
For further information on the range of Yale materials handling equipment visit www.yale.com.
I started working in the forklift truck industry at Yale, Wednesfield in 1970 in the drawing office and later moved on to marketing and training. The following is another bit of Yale history that we used to present on company open days.
The Yale name came about when Linus Yale jr invented the pin tumbler lock in July 1861. Having no money he tied up with an industrialist named Henry R Towne and they formed the Yale and Towne manufacturing company.
Linus died a few months later on Christmas Eve 1861 and there has never been a Yale family member working for the company since! Towne kept the name out of respect for the man who invented the modern pin tumbler lock.
Clark are credited with producing the forerunner of the seated counterbalanced forklift truck in 1917 but it was Yale, that, in 1925, produced the first electric truck that had raising forks and an elevating mast. No tilt was fitted to the machine and the lift was by ratchet and pinion as hydraulic systems had not been incorporated into trucks at that stage. I actually drove one of these machines dating from 1926 whilst working for Yale in the 1970s. This machine, (pictured above), was brought over from the states in 1938 for use by the armed forces. It was a nightmare to drive and the operator stood upright on two large, spring loaded wooden blocks which were used to change direction. It was a dirty brown colour when I drove it and we later kept it in the foyer of the office block. It is now in the FLTA heritage centre which is based at the Midlands Railway Centre and it is still in perfect working order as far as I know! This is definitely the oldest truck in the UK and one of the oldest in the world.
Disclaimer. The legislative information contained on this web site is my interpretation of the law based on many years in the health and safety business. A definitive interpretation can only be given by the courts. I will therefore not be held responsible for any accident/incident/prosecution arising as a consequence of anyone using any information obtained from this web site.