Complete Powerpoint slide presentation for training forklift operators. Ready made training course
Coronavirus: CILT and FTA launch working Good Practice Guide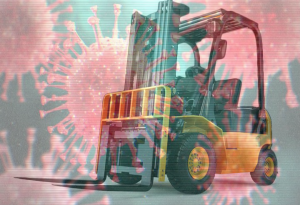 The Chartered Institute of Logistics and Transport and the Freight Transport Association have released the Good Practice Guide for Covid-19, a document sharing practical advice on how logistics businesses can restart their operations safely, effectively and quickly as the nation emerges from lockdown.
Designed to be used in conjunction with the official UK Government guidance on Safer Workplaces, the document covers key considerations including risk assessments; social distancing in the workplace; cleaning of the workplace; and PPE and face coverings.
Kevin Richardson, Chief Executive, CILT, says: "The preparation of the Good Practice Guide for COVID-19 is an excellent example of the profession coming together to share information and generate practical guidance for the logistics sector. In conjunction with official UK government guidance on Safer Workplaces, CILT, the FTA and members from both organisations have produced a document that will be of value to all of those operating in the sector to assist in the recovery and restart of activities that are essential."
David Wells, Chief Executive, FTA, comments: "As logistics businesses seek to restart their operations, protecting their workforce from contracting COVID-19 is their priority. Using practical examples shared by the members of FTA and CILT, the Good Practice Guide for COVID-19 is a vital tool for transport operators and other businesses wanting to deliver safe environments for their staff and visitors to their facilities.
"The combined membership of our two organisations have a wealth of knowledge and insight spanning several different sectors; their experiences will help other businesses understand how best to implement safe practices during this unprecedented time and get their operations up and running as soon and as safely as possible."
Contributions to the guide have been received from some of Britain's biggest business names, including DHL, Wincanton, Maritime and Hermes.
Disclaimer: he legislative information contained on this web site is my interpretation of the law based on many years in the health and safety business. A definitive interpretation can only be given by the courts. I will therefore not be held responsible for any accident/incident/prosecution arising as a consequence of anyone using any information obtained from this web site.