Complete Powerpoint slide presentation for training forklift operators. Ready made training course
Beacuse of the COVID-19 outbreak, this event has been postponed until
22-23 September 2020. For enquiries contact Nineteen group +44 (0)20 8947 9177 oe Email marketing.nec@nineteen-events.com
Health and safety event with hse involvement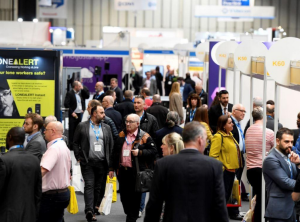 The Health and Safety Event will be held on 28th to 30th April 2020 at the NEC, Birmingham, UK

The health and safety industry revolves around legislation and as a regulator for this, the Health and Safety Executive is delighted to announces its collaboration with The Health and Safety Event (28-30 April 2020, NEC Birmingham).
For the first time, they will be hosting their own dedicated theatre to address the practical issues, latest policy developments and solutions you need to run a safe, healthy and sustainable working environment.
HSE Chief Executive, Sarah Albon, will be making a public appearance to outline the regulator's role in ensuring senior management leadership on health and safety within an organisation and invites you for an exclusive Q&A session.
The Health and Safety Event is backed and supported by the UK's leading industry bodies. AIF, BOHS, British Safety Council, Energy Institute, NEBOSH, UKATA, IOSH who will be in attendance in a series of content sessions and exhibiting capacity, so make sure you are up to speed on the latest industry best practices.
With 450+ exhibitors, 5 theatres of CPD accredited content and plenty of networking opportunities, you won't want to miss out on this flagship event.
Disclaimer: he legislative information contained on this web site is my interpretation of the law based on many years in the health and safety business. A definitive interpretation can only be given by the courts. I will therefore not be held responsible for any accident/incident/prosecution arising as a consequence of anyone using any information obtained from this web site.