Complete Powerpoint slide presentation for training forklift operators
£120,000 fine for metal finishing company after death of employee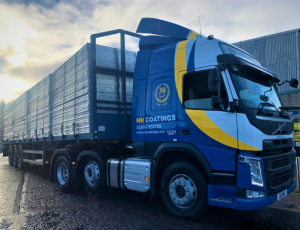 The Health and Safety Executive for Northern Ireland (HSENI) has successfully led a prosecution against NK Coatings Limited in Newtownabbey, which has been fined £120,000.
The Mallusk based company earlier pleaded guilty at Belfast Crown Court following the death of an employee at the factory site.
The prosecution arose following a HSENI investigation into an incident that occurred on 23 September 2020 when a metal storage rack fell from the forks of a counterbalance forklift truck, resulting in fatal injuries to Mr Leslaw Mazur, aged 56.
Mr Mazur, a metal finisher, was assisting three other employees to turn a large metal structure which was being supported on the forks of a fork-lift truck. The metal racking subsequently fell from the forks, striking Mr Mazur. The investigation found that a risk assessment had not been completed for the activity and the method used to turn the structure was unsafe placing workers at risk. A prohibition notice was served on the Company by a Health and Safety Inspector following the incident.
NK Coatings Limited was fined for breaching article 4 of the Health and Safety at Work (Northern Ireland) Order 1978.
Kyle Carrick, Head of HSENI's Major Investigation Team said: "This tragic incident was avoidable. Any activity involving lifting equipment must be properly planned by a competent person, appropriately supervised, and carried out in a safe manner.
"Employers should be aware that HSENI will not hesitate to take appropriate enforcement action against those who are found to fall below the required standards."
Disclaimer: The legislative information contained on this web site is my interpretation of the law based on many years in the health and safety business. A definitive interpretation can only be given by the courts. I will therefore not be held responsible for any accident/incident/prosecution arising as a consequence of anyone using any information obtained from this web site.